/

/

New Year's Revolution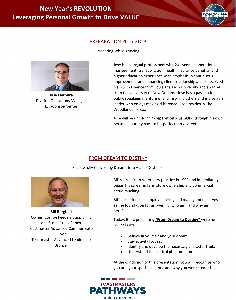 Leveraging personal development to increase your effectiveness and ultimately your value in the work place. Success is no accident and those that prepare for Success are usually successful people. New Year's Revolution hosted by Conroe Speaks is a great opportunity to revolutionize your approach to success in 2019.
Leveraging Personal Growth to Drive Value
New Year's Revolution features three dynamic presentations dealing with Painting the Picture of Success, Preparing for Success and Purpose behind Success. It is our goal to kindle within each participant a desire to become all they were created to be. You will walk away with some new tools to ensure personal growth, effectiveness, a sustainable confidence and the ability to add real value to your employer, thus increasing your own worth.
This event is hosted by Conroe Speaks Toastmasters Club in efforts to make in impact to our community. Conroe Speaks is 14 years old and has been President's Distinguished every year. This is a distinction given by Toastmasters International to clubs that achieve 100% of the annual goals.
Toastmasters is an international, non-profit organization in 141 countries, consisting of 352,000 members and 16,400 clubs. Toastmasters is focused on mentoring people in their communication and leadership skills.
New Year's Revolution – Feb 26, 6:30-8:30 PM (Space limited, RSVP to charlie@charliepitts.com)
Lone Star Conroe Center – 777 North Conroe Park Drive – Room CC105, Conroe Texas