/

/

Local Teen Wins Miss Texas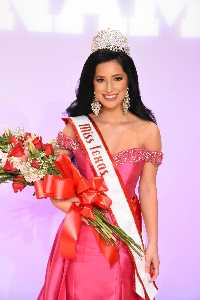 HOUSTON, TX -- Miss Alexis Harper, daughter of Jon and Teresa Harper has earned the prestigious title of the 2019 National American Miss Texas at the state pageant held 6/17/19 in Houston. She will be attending the National Pageant to be held in Anaheim, CA at Disneyland during Thanksgiving week, representing the great state of Texas, where she will have the opportunity to win her share of over $500,000 in cash and prizes!
Alexis Harper wins Miss Texas Teen with National American Miss

The National American Miss Pageants are dedicated to celebrating America's greatness and encouraging its future leaders. Each year, the National American Miss Pageants awards 1.5 Million dollars in can, scholarships, and prizes to recognize and assist the development of young women nationwide. Pageants are held in each state for girls ages four to eighteen in five different age divisions.

The National American Miss Pageants are for 'Today's Girl and 'Tomorrow's Leaders.' The pageant program is based on inner beauty, as well as poise, presentation, and offers an 'All American Spirit' of fun for family and friends. Emphasis is placed on the importance of gaining self-confidence, learning new skills, learning good attitudes about competition, and setting and achieving personal goals. The pageant seeks to recognize the accomplishments of each girl while encouraging her to set goals for the future!

NAM has already inspired Alexis to do great things. She is currently working an internship with NEXT Worldwide Ministries where she has traveled this summer to Romania and Ecuador. She has also donated clothing and books to local non-profits, as well as speaking at local youth groups about sex-confidence and finding one's identity in who God made them to be.