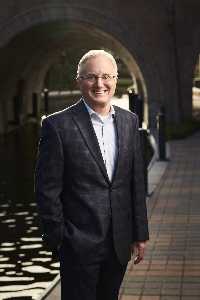 CONROE, TX – All businesses want to be successful, but how is success measured? As a business owner or part of a business do you understand how to read a Profit and Loss statement or a balance sheet? Are you prepared for 2020 and the future? Barry Blanton, Blanton Advisors, LLC founder, will share simple tips to financial success during "Finance is not a 4 Letter Word" in the upcoming workshop.
The Conroe/Lake Conroe Chamber of Commerce will host the Professional Business Development workshop on Wednesday, September 4 from 8:00am until 9:30am at The Conroe/Lake Conroe Chamber boardroom, located at 505 W. Davis in Conroe. Business owners often are overwhelmed, frustrated, and confused with questions concerning budgeting for the future of their business or getting past the day to day worries of finance. Attendees will learn what financial experts can assist their business; a bookkeeper, an accountant, a CFO, or Wealth Advisor, how to re-invest in their business, and if success is measured in liquid assets. Sometimes the questions can be mindboggling.
Then there are the dreaded taxes! Businesses need to plan before its tax time.
"As your business grows, it's important to be financially literate, maybe you can handle it yourself, but maybe you want to consider adding supportive internal personal or by contracting an expert to advise, and support the business as necessary", said Barry Blanton, founder of Blanton Advisors, LLC.
Blanton Advisors, LLC, a CFO and Business Consulting practice located in The Woodlands, Texas was founded in 2010 through a culmination of a financial career spanning over 35 years. Barry Blanton has proven experience in executive level management across the banking, housing, wholesale distribution and building products industries in various roles in banking as CEO, President, and CFO. Blanton Advisors, LLC was formed as a tool for entrepreneurs to focus on their business utilizing Barry's high-level expertise running corporate financial institutions. He has a passion for small to medium size businesses to help them be successful by offering financial expertise as their own Financial Officer without having to bankroll the position.
Blanton has held various volunteer leadership roles and received several civic awards, including; The 2010 Woodlands Hometown Hero, The Woodlands Chamber of Commerce 2017 Citizen of the Year, Light the Night Walk Montgomery County Chairman, Leukemia & Lymphoma Society Executive Committee, Leadership Montgomery County Board, Montgomery County Appraisal District Board, and BBVA Compass Bank Houston-Local Director Board.
He is also the author of The Monday Morning Minute and founder of Live2Lead The Woodlands. Being an advocate of a healthy lifestyle through running, Blanton founded Red X Running and has been an aid station captain for Ironman Texas since its inception. Get connected with Blanton Advisors, LLC at BalntonAdvisors.com
Attend the workshop and come away with a better understanding of how to read an income statement, what the costs of goods are to run your business, spotting trends and investing for the future.
Every other month, the Conroe/Lake Conroe Chamber offers educational seminars to members and not-yet members through their Professional Business Development program. These workshops vary on date and time throughout the year and focus on the creation, development, marketing and management of local and small business in the area. From preliminary planning stages, building a book of business, to filing taxes, using social media and finding the right employees to take your company to the next level, these seminars are a part of the Chamber's continuing commitment to provide affordable education covering a multitude of topics that foster business growth and cultivate sustainability for the community.
Registration for the "Finance is not a 4 Letter Word" workshop is required as there is limited space at the venue. Register online at http://bit.ly/2ZjNwpJ or go to www.Conroe.org and route to the Chamber Calendar on September 4. Chamber members pay $10, and guests or non-registered members pay $15. Doors open at 7:45. A light breakfast is generously donated by the Chamber.
Learn more about the Conroe/Lake Conroe Chamber of Commerce by visiting their website at www.Conroe.org, calling 936.756.6644. Follow them on Facebook, www.Facebook.com/CLCChamber