/

/

Love is in the air. Conroe Symphony Orchestra presents its Valentine's Concert Feb. 8
Love is in the air. Conroe Symphony Orchestra presents its Valentine's Concert Feb. 8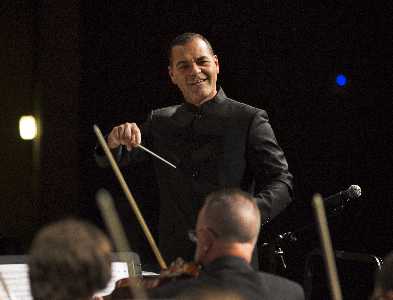 CONROE, TX -- The Conroe Symphony Orchestra, under the direction of Dr. Jacob Sustaita, presents its Valentine's Day concert, Something Old, Something New, Something Borrowed, Something Blue on Saturday, February 8, 2020 at 7:30 P.M. at Conroe High School, located at 3200 W. Davis Street (SH 105), Conroe.
Under the direction of its new Music Director and Conductor, Dr. Jacob Sustaita, this concert features selections of Blue Danube by Richard Strauss, Chevis Garden by B.D. Griffin, Scherzo by Dmitri Shostakovich, Symphony #9 mvt 1 by Antonín Dvo?ák, Pocahontas by Alan Menken and piece for muted Stings by Vivian Fine. The concert also features guest artist, Zhi-Yuan (Bruce) Luo, 2019 YTA Audience Choice Award and Silver Medalist Winner, performing Rigoletto for Clarinet by Giuseppe Verdi.
Love is in the air. This is one of the favorites of the concert season for all ages, so join us for a night of heart-warming symphonic and contemporary music celebrating love. Tickets available now, just a click away at www.conroesymphony.org.
The Conroe Symphony Orchestra is supported in part by funds from Visit Conroe and The Texas Commission on the Arts. The February 8 concert is also supported in part with funds from The Montgomery County Community Foundation. The Conroe Symphony Orchestra is a member of the Greater Conroe Arts Alliance and the Texas Association of Symphony Orchestras.
TICKET AND VENUE INFORMATION
During its Season of Firsts, the Conroe Symphony Orchestra will perform three of the concerts at Conroe High School, located at 3200 W Davis Street (SH 105), Conroe, as well as two at Mims Baptist Church, located at 1609 Porter Road, Conroe. Tickets for individual concerts are $20 for adults and $5 for children ages 12 and under and $10 for students, with special rates available for groups of 10 or more prior to the concert. Season tickets are available for $60 per person, which includes admission to three concerts and two complimentary tickets to any concert of your choice; the patriotic concert is free-of-charge. Tickets may be purchased online at https://conroesymphony.org/valentines/ or by calling the Symphony Centre at 936-760-2144 / 888-823-6610 or purchased in person at the Conroe Symphony Centre, located at 1500 N Frazier in Conroe (please call for office hours). Tickets for performances will also be available at the door prior to each concert.
2020 Concert Schedule
"Hot Latin Nights", Saturday, April 18, 2020, 7:30 PM at Conroe High School
"Patriotic Pops", Saturday, June 27, 2020, 7:30 PM at Mims Baptist Church
ABOUT THE CONROE SYMPHONY ORCHESTRA:
The Conroe Symphony Orchestra was founded in 1997. Since its inception, the Symphony has continued under the baton of several fine musicians including Dr. Robert Zwick, and most recently, Dr. Don Hutson and now continues under the direction of Dr. Jacob Sustaita. The Conroe Symphony Orchestra was created "…to add to the cultural enrichment of the community, assuring a better quality of life for the Conroe area." Our objective is to provide you with the best possible musical experience, while creating music lovers and connecting community.
ABOUT: JACOB SUSTAITA, MUSIC DIRECTOR/CONDUCTOR:
Dr. Sustaita is currently the Director of Orchestral Studies at Sam Houston State University. He has also served as the Music Director of the Akron Symphony Youth Orchestra and the Minnesota Philharmonic.
Jacob completed his doctorate degree at the University of Houston, where he served as assistant music director and conductor for the Moores Opera Center for three seasons. He received a Master of Music in orchestral conducting from Pennsylvania State University, a Master of Music in Viola Performance from Rice University, and a Bachelor of Music in Viola Performance from the University of Houston. He was the Assistant Conductor for the National Youth Orchestra of America, a finalist for the New York Philharmonic Assistant Conductor search, and a semi-finalist at the Cadaques International Conducting competition.
He has been a guest conductor for the Juilliard School Symphony Orchestra, the BlueWater Chamber Orchestra, The Cleveland Orchestra Youth Orchestra, and The Houston Youth Symphony. His honors include: Schissler Conducting Fellowship, Rice University Prize and Provost Fellowship, and American Prize semi-finalist and finalist. His teachers and mentors include Franz Krager, Brett Mitchell, Christopher Wilkins, Gerardo Edelstein, and Paavo Järvi.