/

/

Boathouse Bar & Lounge Makes Official Debut As Newest Venue at Margaritaville Lake Resort
Boathouse Bar & Lounge Makes Official Debut As Newest Venue at Margaritaville Lake Resort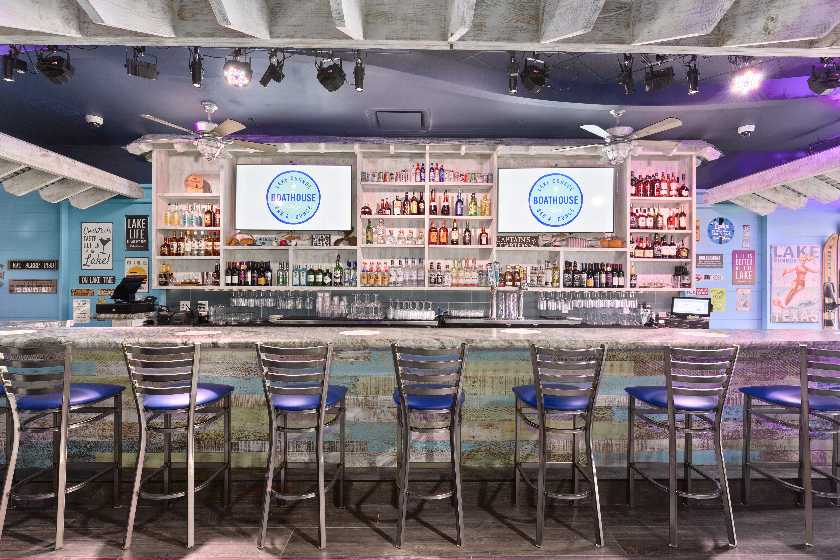 MONTGOMERY, TX -- Margaritaville Lake Resort, Lake Conroe | Houston has officially opened the doors to its newest restaurant and bar – the Boathouse Bar & Lounge.
"Located within the resort's conference center, Boathouse Bar & Lounge offers meeting and conference planners with yet another amenity for blending serious learning with serious fun," said Lisa Fasbender, general manager of Margaritaville Lake Resort, Lake Conroe | Houston. "Boathouse Bar & Lounge is probably best described as a casual hang out and offers an ideal setting to relax and unwind after a long day of productive meetings."
Open to resort guests, members, and the general public, Boathouse Bar & Lounge serves a variety of signature libations such as the Boathouse Margarita. Wine and several local, domestic, and imported beers also are available.
The food menu features a selection of small bites, including a barbeque chicken flatbread, and Lake Nachos, tri-colored tortilla chips with Pico de Gallo, spiced cheese sauce, sour cream, guacamole, and jalapeños served with chicken, brisket, or shrimp. The signature dish is the Boathouse Burger, made with Texas Akaushi Beef Patty, bibb lettuce, caramelized onions, and spiced jalapeno aioli served with house chips.
"Our goal with the Boathouse menu was to come up with unique dishes that reflected the flavors of Texas," said Amit Sen, director of food and beverage at Margaritaville Lake Resort, Lake Conroe | Houston. "We look forward to introducing these new food and beverage options to the other dining experiences we have at the resort."
Outfitted with multiple TVs and a 135" high-definition projection screen, Boathouse Bar & Lounge is the perfect place to take in a game with friends. A stage and dance floor with a disco ball create the optimal atmosphere for hosting various performances and entertainers. The venue also features a state-of-the-art sports simulator, so guests can take in a round of golf or organize a homerun derby rain or shine.
Boathouse Bar & Lounge is open Sunday through Thursdays from 5 p.m. to 12 a.m. and on Friday and Saturdays from 6 p.m. to 2 a.m. and Sundays from 11 a.m. to 11 p.m., making it the ideal atmosphere to chill and watch Sunday football.