Worthington Manor Upscale Senior Living Community invites seniors to their new home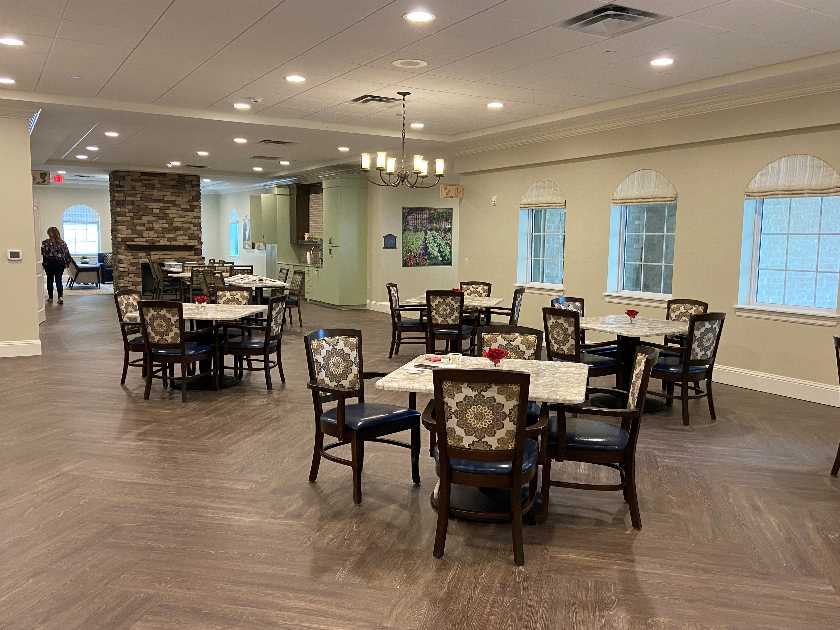 CONROE, TX -- Megan Christopher, Executive Director, has worked tirelessly since the groundbreaking in Spring of 2021 for this day. Worthington Manor Assisted Living and The Lodge at Worthington Manor Memory Care celebrated their Grand Opening on April 21 welcoming the public and new residents into their state-of-the-art compassionate care living facility located at 1999 Lakes of Wedgewood Drive in Conroe. May 2 will be the official date of the move-in for nearly 40 new residents.

"Over 6 years ago, Jeff Farmer, CEO of Spectra Properties Inc and Norma Upshur, Managing Member of the ownership, had a vision to develop world class communities dedicated to fostering lives for seniors," said Kevin Carlin, Principal and Chief Sales Officer of Meridian Senior Living. "We would like to thank the city of Conroe, for their warm welcome and support throughout our construction and pre-leading process. Now we look forward to bringing the community to life as residents move into their new home where they will experience Gourmet Cuisine and our best-in-class programs such as our Life Inspired, our life engagement program and our Montessori Moments in Time Memory Care program."

Lindsey Commercial Properties originally purchased the driving range spearheaded by Developer, Curtis Lindsey, President and CEO of Lindsey Commercial Properties. He partnered with Jeff Farmer and Norma Upshur to build the facility after they purchased additional land for the facility and the surrounding area for a total of 72 acres. The facility is situated on 26 acres from the highest point in Conroe with more than 135,000 square feet.

The community of Worthington Manor will offer compassionate assisted living services and The Lodge will offer a distinctive dementia care program based on a Montessori methodology for seniors with Alzheimer's or other forms of dementia. Residents will be encouraged to remain active and social by indulging in visits to the salon, fitness stations, creative art workshops, participating in the game room activities, and events in the theatre and Happy Hours at the bar. Chef Eddie Johnson adds a Cajun flair to the menu and is looking forward to incorporating resident favorites into the menu.

One of the founding residents, Lois Presto, shared her excitement to move in.
"I am thrilled to move into my new home May 5 with my friend Ruth Lindsey (mother of Curtis Lindsey-developer). We were friends at the Ark Church and were in Bible Study together. As a new widow I want to be in a safe environment with people that have my same interests and active lifestyle". Mrs. Presto's family members joined the Grand Opening and were equally enthusiastic about the new facility encouraging an active lifestyle. They also got to meet one of the physicians, Dr. George Valdez, who would be at Worthington Manor visiting all the residents weekly or more often as needed to insure their medical care.

Norma Upshur said," As we age, we want to feel as if we belong, to be part of a community. It is important for our self-worth to integrate into a community, a group, and be around people we trust. Worthington Manor hopes to meet the goals of the seniors and the community. Families are always welcome with multiple gathering areas and dining venues for encouraging intimate intergenerational communication."
Managed by Meridian Senior Living, Worthington Manor has 72 assisted living apartments and 46 memory care beds. Residents can choose from 5 floor plans ranging from a studio apartment to a 2-bedroom unit. Apartments will include 9 ft ceilings, custom cabinets, granite countertops, stainless-steel appliances, and individual HVAC systems. Some units may have private patios and laundry facilities, tile in bathroom and wood look flooring throughout the living areas.
Amenities include a full-service bar, a Lone Star Bistro, Al Fresco Dining, an Exercise Studio, an Art Studio, a Game Room, Library, Poker Room, a Full-Service Spa (including Hair Salon, Manicures, Pedicure and Massage Rooms), a dine-in movie theater, a demonstration kitchen for Culinary Classes and chef demonstrations, and a dog park.
Worthington Manor is a for-profit development. It is funded in part by the U.S. Housing and Urban Development (HUD) Federal Housing Administration (FHA). It abides by all laws and regulations required by the Federal Fair Housing Act and the Equal Employment Opportunity Commission.
More information can be found on the Worthington Manor website at worthingtonmanorseniorliving.com.