/

/

And the Number One Answer is Fun: Family Feud, New Danville Style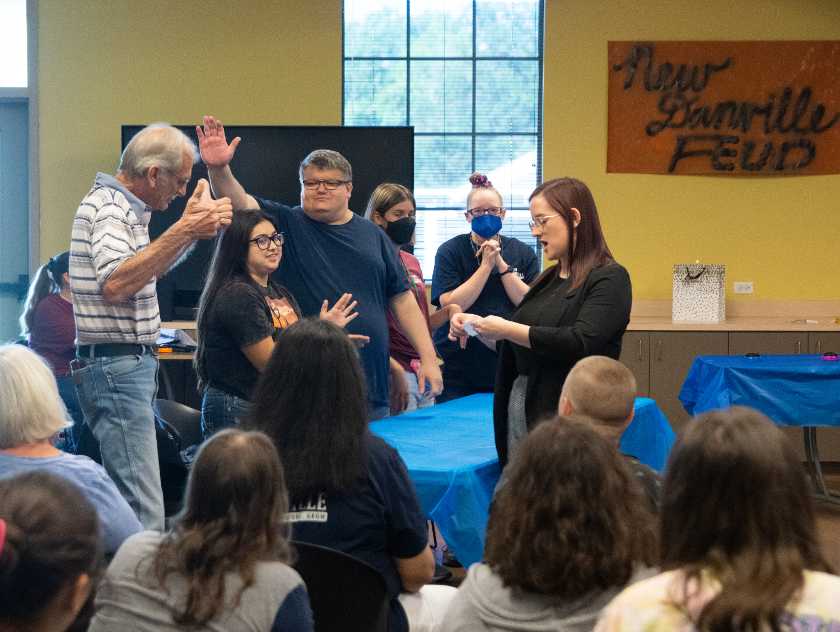 WILLIS, TX -- In these contentious times, it is nice to know that there is a time and place for a friendly feud. The time was "recently" and the place was New Danville, a rural nonprofit community for adults with intellectual and developmental disabilities.
Modeled after the popular television game show, Family Feud, the recent New Danville Feud competition that pitted two teams was a rousing success. The game hostess was Trish Woods, a Direct Support Professional (DSP) at New Danville. She oversaw the challenge between the Wrestless Wranglers and the ND Champs. Both teams included staff and Wranglers (New Danville clients).
"While 'live, learn, work, grow' are the verbs of our tag line," said CEO/President Eva Aguirre, "you can be assured that 'fun' is incorporated into everything we do."
The television show debuted more than 45 years ago. Its staying power most certainly comes from the combination of competitiveness, humor, laughter and crazy answers. The New Danville version will likely be around for a while, too. In the new semester that started in August, a class titled Family Feud made its debut; it is very popular and led to the idea of having a competition as an event for everyone to attend so they could cheer on their favorite team. Trish, and fellow DSP James Scott, manage the class on different days.
For those keeping score, the ND Champs were…the champs. Rumor has it that the Wrestless Wranglers want a re-match