/

/

Conroe celebrates Cultural District designation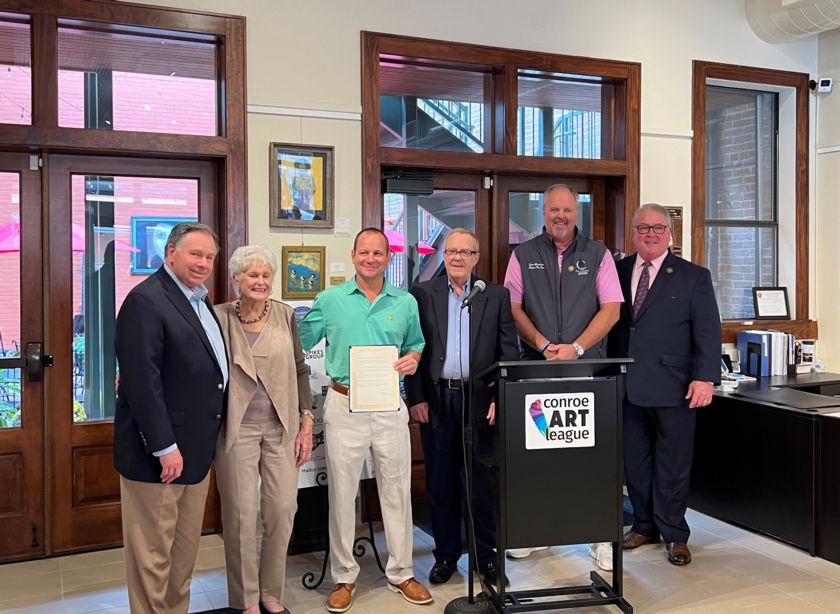 CONROE, TX -- To mark the new status of the Downtown Conroe Cultural District a "Designation Celebration" was held on Sunday, October 23 from 2:00 - 4:00pm at the Conroe Art League Gallery, located at 127 Simonton St. The event included light bites and refreshments from FLOUR-ISH, a duet of violin and cello from the Conroe Symphony, and Dave Parsons, the 2011 State of Texas Poet Laureate, presented a new piece written specifically for the event about the long wait and sweet taste of finally being awarded the designation.
Gary Gibbs, Ph.D., Executive Director of the Texas Commission on the Arts, presented Mayor Jody Czajkoski with an official Proclamation designating the Downtown Conroe Cultural District. Mayor Pro Tem Curt Maddux and Councilman Harry Hardman joined Mayor Czajkoski to receive the proclamation.
The Texas Commission on the Arts (TCA) approved the designation of the Downtown Conroe Cultural District in September. Cultural districts are special zones that harness the power of cultural resources to stimulate economic development and community vitality. The outcomes of cultural districts extend beyond the arts and benefit all members of a community. Official designation allows cultural districts and qualifying resident arts organizations to be eligible to apply for significant Cultural District Project funding through TCA. This designation was the culmination of over a year of work that built on previous applications, the Downtown Conroe Development Plan, and strategic planning with over 20 downtown cultural arts stakeholders.
Downtown Conroe becomes one of only 52 cultural districts in the entire state. These districts can be focal points for generating business, attracting tourists, stimulating cultural development and fostering civic pride. The City could not be more pleased and thankful for the support and recognition from the Texas Commission on the Arts.