/

/

Conroe Awning and Screen Donates Shelter Supplies and Funds to Montgomery County Animal Shelter
Conroe Awning and Screen Donates Shelter Supplies and Funds to Montgomery County Animal Shelter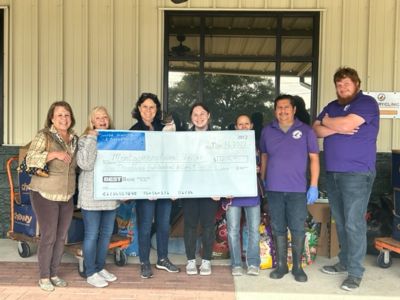 CONROE, TX -- Luis and Chrissie Teste, owners of Conroe Awning and Screen were amazed by the generosity of the community in response to the supply/food drive for the Montgomery County Animal Shelter. The Testes are avid animal lovers and have rescued multiple cats and dogs! Knowing efforts of the team at Montgomery County Animal Shelter and the dedication of the scores of volunteers, Luis and Chrissie decided to do their part by holding a supply and food drive for the shelter. The recent collection started in mid October and ended November 11th with donations coming in from around Montgomery County. The showroom at the Montgomery facility was filled with bags of towels, blankets, pet beds, food, and toys, along with 30 boxes of items from Chewy and Amazon.
MCAS Receives 3 truck loads of supplies and check from local company
To match the generosity of the community, Conroe Awning and Screen offered a contribution of 10 dollars for each donation received. Several donors ordered supplies from Chewy.com and Amazon and had dozens of boxes delivered to the showroom. Three trucks moved the supplies and food to the Montgomery County Animal Shelter, located on Hwy 242, on Wednesday, along with a $1200 check from Conroe Awning and Screen.
Luis and Chrisse hope to continue supporting Montgomery County Animal Shelter along with the community. A collection is tentatively schedule for the spring. The shelter currently has some very wonderful and adoptable animals ready for you and your family! Follow the shelter @MCASSaves on facebook to see adoptable pets and get updates on adoption events!
About Conroe Awning and Screen: Family Owned Awning and Screen Company serving the Houston Regional Area. 18915 Freeport Drive, Montgomery, Texas www.conroeawning.com