/

/

'Market Day' at Benders Landing Estates to benefit New Danville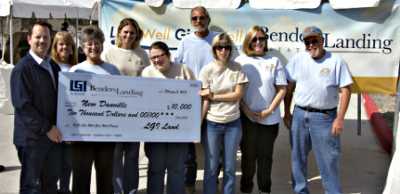 MONTGOMERY COUNTY, Texas – Saturday, February 2, 2013 was a beautiful day at Benders Landing Estates. The "Market Day" to benefit New Danville was an effort to further community connection. The day was a huge success due to the group effort and staying true to Benders Landing Estates' mission.
Market Day was More than Just a Place to Shop!
Tymes Square at Benders Landing was positively transformed into a marketplace shopping venue filled with items created, grown, and made by the men and women of New Danville. Items such as specialty teas and honey, scented candles, soaps and lotions, woodworks and antiques were bought. Attendees also had the pleasure of meeting the miniature horses raised by New Danville residents and enjoyed fantastic food from area gourmet food trucks that sealed the market day appeal.
Kathy Sanders, CEO and Founder of New Danville had this to say, "Benders Landing Estates' "Live Well, Give Well" benefit held for New Danville was a tremendous success for our special community. The Market Days event attracted numerous families who enjoyed petting our miniature horses and who purchased products that we make at New Danville. But most important of all, this wonderful event gave us an opportunity to share information about New Danville and the special population we serve. We are most grateful and honored to have been selected by Benders Landing Estates as the charity for the January 2013 Live Well Give Well event."
Not only was the day filled with the magic of the community coming together to support and celebrate the cooperative effort of New Danville, LGI Land/Benders Landing Estates was pleased to be able to donate $10,000 to support New Danville's future endeavors.
The Live Well Give Well Project encourages everyone to find out how incredible giving back can be! Chris Wren, President of LGI Land, "We hope this project inspires people and local businesses to get involved, it was built around the idea of supporting the local community. As a socially responsible organization, we are committed to facilitating this type of project."
Call for more information.