/

/

Jazzy Junque - New Danville's resale store - moving to larger location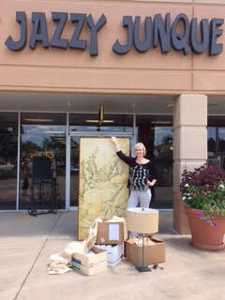 MONTGOMERY COUNTY, Texas -- Jazzy Junque resale store is relocating within the Outlets at Conroe, to a larger space, Suite 172. Jazzy Junque will close its doors for sales on December 20, 2017 and re-open on January 20, 2018.
Donations will continue to be accepted after December 20th at the new location. Jazzy Junque is one of the top upscale resale stores in Conroe.
A preview party will be held on January 18 at 6:00 pm at the new location. Tickets are $25.00 per person.
"We've been so successful that we need larger space to accommodate the wonderful household, boutique and other great items," said Jazzy Junque Founders Odette D'Agostino and Nanci Day. Jazzy Junque has been at the Outlets at Conroe since 2012 and has credited its growth and success and growth on community support.
Jazzy Junque is New Danville's resale store. New Danville is a day program for adults with intellectual and developmental disabilities, located on Shepard Hill Road in Willis. The store is operated with volunteers and has two three paid staff members.
Important details:
Jazzy Junque will continue to accept donations….drop off is the new location Store #172 (five doors away from its current location). Call ahead to determine hours. 936.441.4500.
Store opens on January 20 at 10:00 am and will close each day at 6:00 pm – Monday through Saturday
Tax receipts are given for all donations
Preview Party tickets are available by calling 936.441.4500 or stop by our new location after December 20.