/

/

Two moms and a grandmother make generous donation to New Danville equine program
Two moms and a grandmother make generous donation to New Danville equine program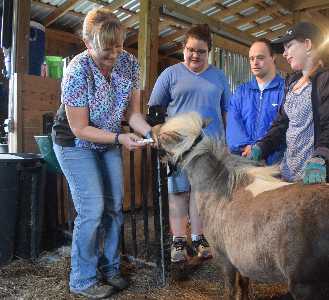 MONTGOMERY COUNTY, Texas -- Two moms and a grandmother have accepted the financial responsibility for the annual veterinarian charges of New Danville's 14 equine (horses and donkeys) in the Ag- Life Program.
Each of them made a tax deductible donation for the equines' annual veterinarian exams, vaccinations, and blood tests.
The two moms are Kathy Sanders and Karyn Grace, and the grandmother is Jeane Massey.
New Danville is a non-profit organization for adults with intellectual and developmental disabilities. According to President and CEO Eva Aguirre, "Our horse program is our flagship program. Our clients learn the complete proper care and feeding of our animals."
John Massey, New Danville's Ag-Life instructor said, "Our clients learn to muck the stalls, clean each of the horses and donkeys hooves (frog), bathe, feed, and rotating them in our four pastures. In addition, the clients enjoy assisting the farrier and vet. Equine therapy helps to build confidence and knowledge and also gives a sense of ownership and satisfaction of caring for an animal."
According to New Danville's Founder, Kathy Sanders, three of the miniature horses came from a Brenham monestary, Cloister of Poor Saint Claire. According to Sanders, "These animals are very therapeutic for New Danville clients and are an important part of its Day Program."
The annual vet check-up is vital to maintaining New Danville's equine health. The two moms and a grandmother recognize the importance of this program to the New Danville clients and are proud to support the Ag-Life Program. In addition to annual vet care, the animals receive farrier services every eight weeks.
For information to support this program, please call Eva Aguirre at 936.344.6200.