/

/

Appetites satisfied at both Tastefest and with outreach project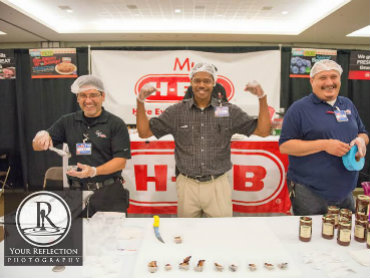 CONROE, Texas - Conroe residents starved themselves in preparation for the annual Tastefest that was served up at the Lone Star Convention Center, and there was no shortage of food to satisfy the hungry appetites.
High school culinary arts showcased, and food recovery program initiated.
Showcasing the best culinary cuisine Conroe has to offer, the Conroe/Lake Conroe Chamber team estimated 1,200 attended the event.
"Pre-ticket sales equaled last year's numbers, but we won't know how many purchased tickets at the door until later," said Chamber President, Scott Harper. "Now that the storm has passed, people will start to arrive."
New to this year's event, the Caney Creek Culinary Arts program demonstrated their skills at Tastefest. Another first...a food recovery program initiated by the 2015 Leadership Montgomery County class, ensured that nothing was wasted. Restaurants donated leftover portions to their class members on site, for distribution. Heaven's Army of Resources, Salvation Army, and Angel Reach, were selected as the recipients for the bounty. Heaven's Army previously received refrigeration equipment and freezers that the LMC class was able to arrange. Located in East Montgomery County, there's not only a high percentage of low-income families that Heaven's Army provides for, flooding from the west fork of the San Jacinto River is expected to worsen displacing families.
"The food isn't only going to be welcomed, it's essential in the east area of the county," said Conroe Today affiliate,Margie Taylor, a Splendora resident and LMC 2015 graduate who volunteered to deliver the food to Heaven's Army of Resources late Thursday night after the Tastefest.
Shelley Rollins, another LMC graduate and a Woodlands Online sales representative (Conroe Today's affiliate website) said approximately 400 pounds of food was delivered last night.
The 'faves' were as diversified as the food offerings…
"I really liked East Buffet. That's a restaurant we've been talking about trying, and we're definitely going to go there now," said Willis resident, Steve Clifford.
Several men who stopped by the Conroe Today booth commented on the bacon offerings: the candied bacon on a stick served by All-Star Catering, and the carmelized bacon cubes from Spectrum. The women liked the sweet buffet provided by HEB...sweet!
Laura Smith, the winner of Tastefest tickets from Conroe Today, arrived from working a food drive, and finally had a chance to eat. "There's some really good barbeque here," said Smith.
Attendees who register a 'Login' on Conroe Today will be entered into a contest for more great barbecue...a $50 gift certificate to Manny's BBQ & Grill in Conroe. The winner will be drawn at random.
For information about participating in next year's Tastefest, visit the Conroe/Lake Conroe Chamber's website Conroe/Lake Conroe Chamber of Commerce. For more information about Heaven's Army of Resources, visit and 'Like' their Facebook page at the link provided. Also see website links for both Angel Reach and the Salvation Army in Conroe.
"I really like this event, with the concrete floors and the down home feel," said Woodlands resident, Shawn Smith (no relation to Laura Smith previously quoted). "It's like an indoor picnic."