/

/

New Veterans Clinic officially opens with Grand Opening celebration (video)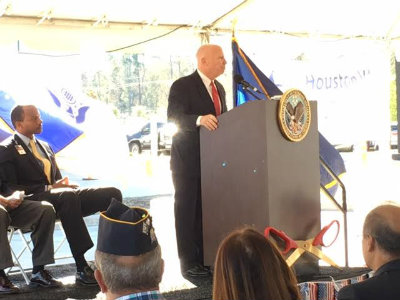 UPDATE:
CONROE, Texas - The Veterans Clinic in Conroe officially opened with a celebratory ribbon-cutting Friday, December 4. Instrumental in acquiring funding for the state-of-the-art clinic, was Congressman Kevin Brady of the Texas 8th Congressional District. Those on hand for the dedication included Associate Director of the Michael E. DeBakey VA Medical Center, Christopher Sandles, and Conroe Mayor, Webb Melder.
"We do this together and collectively, as a government, keeping good on its commitment to serve the men and women who have kept good on their commitment to serve our country," said Conroe Mayor, Webb Melder.
The new Conroe VA Outpatient clinic is four times the size of the original facility, with more health health services and health care professionals. This larger clinic allows the VA to better serve Veteran's health care needs in a modern, professional environment. In addition, many new specialty care services will be available in the new clinic location, including optometry, audiology, radiology, laboratory and much more over time. More 8,400 Veterans currently receive care at the Conroe VA Outpatient Clinic.
"We''ve already begun working with the VA on the expansion of services. We're not finished here. We're already working on the next phase," said Congressman Brady. "Five thousand square feet on the 4th floor here that we have already submitted a request for expansion for sleep apnea, and for more women's services, and for dental care."
Congressman Brady stated that they'll never quit trying to grow. Congressman Brady listed three responsibilities that we need to provide for our veterans...
"First, to never forget the sacrifices they made, and their families have made for our freedom," said Brady. "Second, to fulfil our commitment to take care of them when they return home, or when their service is completed. That's health care, that's jobs, and no veteran should ever go homeless. Our second obligation is to take care of them. Our third obligation is to ensure we fully fund our military men and women every day so that we protect the freedoms that these men and women have fought so hard to secure for us," added Brady. (See video.)
The Honor Guard of Veterans of Foreign Wars Post 4709 in Conroe, made the Presentation of Colors at the beginning of the program; the National Anthem was sung by USAF veteran, Jeff Triebel, and the Invocation was given by Chaplain Barrington Malcolm, both of the Michael E. DeBakey VA Medical Center.
A reception followed immediately, with refreshments provided by Conroe VFW Post 4709, and the Montgomery County Republican Women's Group.
See grand opening and ribbon-cutting ceremony at-a-glance in photo album VA Clinic Grand Opening, and see link for official ribbon-cutting video.
ORIGINAL STORY:
CONROE, Texas - The Veterans Clinic will showcase its new facility with a Grand Opening celebration this Friday, December 4, from 10:00 a.m. to 4:00 p.m. Located at 690 South Loop 336 in Conroe, veterans, their families, and the community, are invited to come see the new clinic and all the amenities it has to offer.
Due to the efforts of Kevin Brady, U.S. Representative for Texas's 8th congressional district, the community, veterans, and the local Veterans Administration, the clinic came to fruition and opened its doors for veterans, November 23. (See related link New Veterans Clinic opened for services November 23.
According to Congressman Brady, this new clinic is more than four times the size of the original clinic, and offers primary care, mental health services, and the following specialty services: audiology, optometry and radiology.
"The new clinic is conveniently located and has more than adequate parking, with 220 parking spaces, 20 of which are designated as handicapped spots." said Congressman Kevin Brady previously at the Veterans Fair on November 11. "Our military personnel are so deserving of this." (See related link Inaugural Veterans Resource Fair a big success (includes video).
To hear more about the new Veteran's clinic, and the services it offers, hear Congressman Brady's podcast, (Veteran's clinic discussed at 6:19 into the podcast.) but he is really hoping the public will come to the grand opening and see for themselves, in order for veterans to fully take advantage of the clinic's services.
#HealingHeroes
Montgomery County Veterans Svc Stories: (3)