/

/

New Directors Sworn into Montgomery County Veteran Commission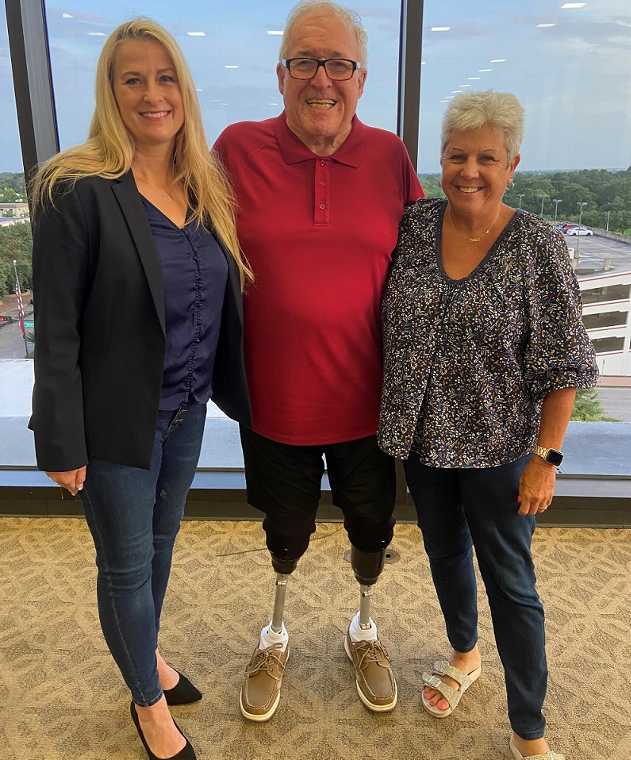 CONROE, TX -- Monday, July 12, 2021, two individuals were sworn into service by Chairman, Jimmie E Edwards, retired USMC as commissioners for the Montgomery County Veterans Commission, Kelly A. McDonald, and Margie Taylor.
Kelly is a second term elected Board Trustee with Magnolia ISD, Position 1, serving as a representative since 2018 for the Texas Association of School Boards, was appointed Commissioner of the Montgomery County Housing Authority, Pct 2 in March 2021, and is an active member of the National School Board Association, leading conversation nationally about public education, advocating to Congress for public policies that ensure all students have access to an excellent public education where they live.
In her role as an elected official representing 13,600 students on 16 campuses she participates as a team member adopting policies and advocating supportive educational legislation. As of July 2021 Kelly is President of the Rotary Club of Magnolia where she has served as a Board Member and Past President (2017-2018) since 2015.
Margie Taylor is founder of Taylorized PR, a boutique Public Relations firm serving the Greater Montgomery County area since 2014. Prior to establishing Taylorized PR Margie Taylor worked in the non-profit sector as Director of Development for Community Assistance Center, the Montgomery County Food Bank, as Director of Marketing/Development, and Montgomery County Youth Services, as Outreach Coordinator serving homeless youth with resources in all secondary schools throughout the county. In 2014 while launching Taylorized PR she participated in Leadership Montgomery County-Class of 2015.
Her engagement in the community includes membership in the Conroe/Lake Conroe Chamber, The Woodlands Area Chamber, Montgomery Area Chamber, The Greater Magnolia Parkway Chamber (serves as a Board Director), Greater East Montgomery County Chamber, Entergy Power to Care Board, Board Director of Bridgewood Farms, Leadership Team for Montgomery County Association of Business Women, and Board Director of Montgomery County Women of Distinction. Taylorized PR is a sponsor of many local nonprofit fundraisers to bring awareness and funding to needed vulnerable populations.
As Chairman of the Montgomery County Veterans Memorial Commission (MCVMC), Judge Jimmie C Williams, III stated, "The Commission is pleased to announce the addition of both Kelly and Margie to our team of dedicated directors to help facilitate the advancement of the Veterans Memorial Park into a facility for veterans, educators, students, and the public to gather to learn about the experiences, tragedies and triumphs of the men and women who are serving or have served the United States of America from 1775 to present.
Chairman Edwards continued, "Kelly brings a wealth of knowledge and perspective as a Magnolia ISD Board Trustee and resident of Magnolia to deepen our relationships in the west end of the county. Margie has extensive relationships throughout the Montgomery County community and her communication experience in public relations will enhance our ability to share information with a strong presence."
McDonald and Taylor will be serving on the Board alongside Commissioners Scott Bullitt (U.S. Navy), Henry Calyen (U.S. Army), Duke Coon (U.S. Navy), Sylvia Olszowy, Commander Floyd Stewart (U.S. Army), Howard Wood (U.S.M.C.), Georgian
Christopher, Michael Durham (U.S. Navy), Mary Knights, Raven Rivero, Thomas Turner, Barbara West, Michael John Foy Day (Chaplain U.S. Navy), Rob Eissler (U.S.Navy), Brenda Webb, and George Zamora (U.S.M.C.).
Texas State Representative Will Metcalf was instrumental in obtaining $7million allocated to the Montgomery County Veterans Memorial Park that will assist with a state-of-the-art Education Center / Visitors Center and Museum. Funds will be used to promote, honor, and commemorate the service of all veterans serving our country in the past, present, and future as a gift to the nation. The facility will also act as an emergency response and support center during times of disaster like Hurricane Harvey.
Funding efforts are ongoing and additional support is needed. Get involved with sponsoring the Veteran Memorial Park for our community through various opportunities:
Montgomery County Veterans Memorial Commission is a nonprofit organization dedicated to educating, illuminating, and enriching our youth, families, and communities from this state and this nation to the services, experiences and sacrifices of our United States Veterans and First Responders. Learn more about the Montgomery County Veterans Memorial Commission at www.HonoredMission.org.
For additional Information about volunteering, donations, or details about the MCVMP please call 936-521-3668 or email Executive Director, Janeen McSwain at jmcswain@HonoredMission.org Engage with the Facebook page at www.Facebook.com/honoredmission