/

/

Family and friends pay respect to pre-teen killed in vehicle-patrol car accident
Family and friends pay respect to pre-teen killed in vehicle-patrol car accident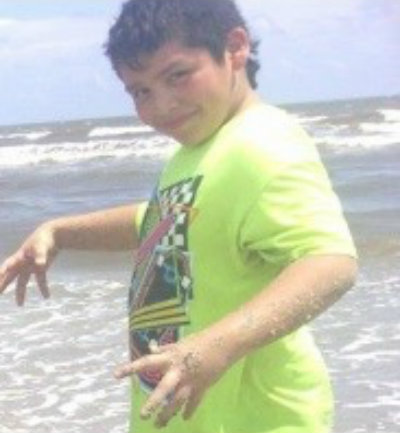 CONROE, Texas - The community paid its respects to Adan Hilario, Jr., the 12-year old killed in an automobile accident June 19, both with a balloon release memorial tribute Saturday, and his funeral today, at Sacred Heart Catholic Church in Conroe. The well-attended balloon release took place Saturday evening, June 25, at Splendora Junior High where Adan attended school.
Adan was a victim of circumstances when the vehicle he was riding in struck the patrol car of Sgt. Stacey Baumgartner of the Patton Village Police Department, while in pursuit of a suspect. The Sergeant lost his life in the accident too. He was laid to rest will full honors June 24.
Adan loved to play soccer and football, and aspired to pursue two of his favorite interests. He wanted to become both a mechanic and a professional football player. His loss at such a young age is a poignant reminder that there's no guarantees of a future. The gravesite service will take place Garden Park Cemetery at I-45N and FM 3083.
A Go Fund Me account has been set up to aid with Adan's funeral expenses, and the medical expenses of the the other four family members injured in the accident.
The loving tribute was posted on his Go Fund Me page…
Adan Hilario Jr (12 years old) passed away 6/19/2016 in a car accident. .Adan was an amazing child, he was full of dreams as any other child would be, he had a whole life ahead of him. The entire Hilario family is in the hospital suffering serious injuries, but the loss of a lovely son, brother, nephew, and grandson will forever be kept in our hearts . His family needs as much help and support let us demonstrate all the love we can provide to this family. RIP little angel Adan Hilario Jr.
The loss of a child and a peace officer was a tragic continuation of a lethal trend in vehicle fatalities that have plagued Montgomery County roads going back to March. Since the accident that took the lives of Adan Hilario and Sgt. Baumgartner, another fatality occurred the morning of June 24, when a motorcyclist struck a vehicle and was killed at the intersection of SH 242 and FM 1488.
The Department of Public Safety's Safety Education and Public Information Officer Trooper Erik Burse is urging drivers to exercise caution, drive defensively, and do their utmost to keep the drive alive.
See related article:
Alarming trend of Montgomery County road fatalities continues to climb
#KeepTheDriveAlive