/

/

Record number of motorists to travel 4th of July weekend due to low gasoline prices
Record number of motorists to travel 4th of July weekend due to low gasoline prices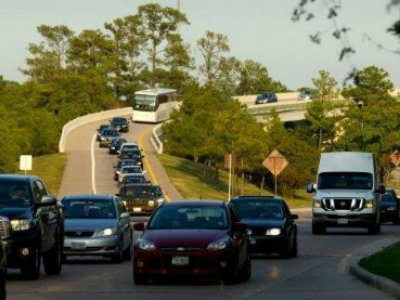 MONTGOMERY COUNTY, Texas - More people than ever will be taking to the highways this 4th of July holiday weekend, with gas prices the lowest in over a decade. The national average price for a gallon of gasoline is $2.31, which is 47 cents less than one year ago, but get your gasoline before Friday, as the price typically goes up before a holiday weekend.
The Department of Public Safety offers recommendations for safe holiday travel.
AAA projects that 2016 will be a record-breaking year for summertime travel; most of it taking place this coming weekend at nearly 43 million. Eighty-four percent of holiday travelers, more than 36 million, will drive.
The Department of Public Safety is urging motorists to take precautions in order to have a safe trip. The Safety Education and Public Information Officer, Trooper Erik Burse, provided the following: Preventative vehicle maintenance Make sure your vehicle is in good running condition before hitting the highways. AAA expects to rescue more than 370,000 motorists during the 4th of July holiday travel period. Get your vehicle inspected before your road trip. Check the tire tread, fluids, battery, belts, and hoses, and make sure your auto insurance is current.
Be courteous
"I truly believe courtesy is contagious," said Trooper Burse. "If you yield to another driver, they're more likely to do so to. Above all, avoid getting angry. Let it pass."
Aggressive driving is responsible for 66% of traffic fatalities according to the American Safety Council.
Buckle up
People not wearing a seat belt are 30 times more likely to be ejected from a vehicle per the CDC (Center for Disease Control and Prevention) and the DPS. Montgomery County recently recorded the death of a preteen who was ejected from a vehicle involved in a police pursuit accident. (See related article and updates…Chase suspect has day in court for double fatality accident
Don't text and drive
Put down the phone! Texting while driving is now the leading cause of U.S. teen deaths, with over 3,000 annually according to statistics compiled by Auto Safety. More than 50 percent of teens admit to texting while driving
And most importantly...
Don't drink and drive
As with any holiday weekend, the Department of Public Safety and other law enforcement agencies will be keeping a vigilant eye out for motorists driving under the influence of alcohol or drugs. Mothers Against Drunk Drivers (MADD) states that 27 people die due to drunk driving accidents every day in America. They also share some other astounding statistics and information on their website at www.madd.org, among them...an average drunk driver has driven drunk over 80 times before the first arrest, and 50-75 percent of convicted drunk drivers continue to drive with a suspended license.
"Driving while intoxicated is one of the top number one reasons for fatalities in the United States," said Trooper Burse. "If you've had too much to drink, have a designated driver. Have this planned before you and your family, or your friends go out."
See Trooper Burse's complete Public Service Announcement in addition to the list of consequences for drinking while driving, in the following video…
DPS Trooper Erik Burse: Driving while Intoxicated
#DontDrinkAndDrive #KeepTheDriveAlive #4thofJuly #MADD