Get Ready: Woodlands Online to provide another year of live broadcasting, video streaming for Conroe ISD athletics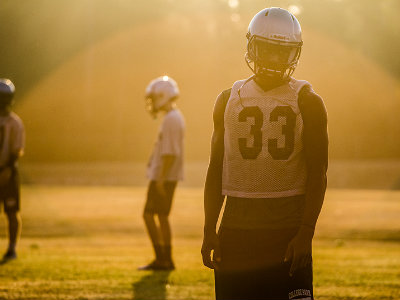 MONTGOMERY COUNTY, Texas — The heat is burning with the start of fall high school sports this month, and Woodlands Online is excited to announce the return of live broadcasting and video streaming of Conroe ISD athletics.
"It's truly an honor and joy to cover Conroe ISD athletics and to be awarded the opportunity to do it again for another year," Jessica Fraser, CEO of Woodlands Online, said. "This year we look forward to not only broadcasting the superb athletics of our district, but we also look forward to telling the stories of how these individuals are doing bigger things for their community and beyond."
Woodlands Online's video streaming will continue to showcase athletes involved in Conroe ISD programs and provide an avenue of entertainment for local residents. Watch the highlights of last year's athletics.
"Conroe ISD is looking forward to its continued partnership with Woodlands Online in the video streaming of Conroe ISD football games from Woodforest Bank Stadium and Buddy Moorhead Stadium," Danny Long, Athletic Director of Conroe ISD, said. "This is an excellent opportunity for our students to receive maximum exposure for their efforts while participating in extracurricular activities."
Stay up-to-date with Conroe ISD athletics by accessing the full game schedule for the school district and by visiting us on Conroe Today Facebook, Woodlands Online Facebook, and following us on Twitter at @WOLsports.
Below are the games that will be broadcasted live or can be streamed On-Demand.
Aug. 16, 6 p.m., Volleyball The Woodlands vs. Katy Seven Lakes, Live
Aug. 23, 5:30 p.m., Voleyball College Park vs. Magnolia Live
Aug. 25, 7 p.m., Football Conroe vs. Cy-Springs, Live/On-Demand
Aug. 26, 7 p.m., Football Caney Creek vs. Northbrook, On-Demand
Aug. 30, 5:30 p.m., Volleyball Oak Ridge vs. Tomball, Live
Sept. 1, 7 p.m., Football The Woodlands vs. Spring, Live/On-Demand
Sept. 2, 7:30 p.m., Football Oak Ridge vs. Fort Bend Elkins, On-Demand
Sept. 6, 6 p.m., Volleyball College Park vs. Brenham, Live
Sept. 9, 7:30 p.m., Football, The Woodlands vs. Katy, On-Demand
Sept. 13, 5:30 p.m., Volleyball The Woodlands vs. Tarkington, Live
Sept. 15, 7 p.m., Football College Park vs. A&M Consolidated, Live/On-Demand
Sept. 16, 7:30 p.m., Football Oak Ridge vs. Deer Park, On-Demand
Sept. 23, 7:30 p.m., Football Oak Ridge vs. Conroe, On-Demand
Sept. 27, 5:30 p.m., Volleyball Oak Ridge vs. College Park, Live
Sept. 30, 7:30 p.m., Football The Woodlands vs. Lufkin, On-Demand
Oct. 4, 5:30 p.m., Volleyball Oak Ridge vs. Montgomery, Live
Oct. 6, 7 p.m., Football Conroe vs. Montgomery, Live/On-Demand
Oct. 7, 7:30 p.m., Football, Oak Ridge vs. College Park, On-Demand
Oct. 11, 5:30 p.m., Volleyball Oak Ridge vs. The Woodlands, Live
Oct. 13, 7 p.m., Football The Woodlands vs. Oak Ridge, Live/On-Demand
Oct. 14, 7:30 p.m., Football College Park vs. Conroe, On-Demand
Oct. 18, 5:30 p.m., Volleyball The Woodlands vs. College Park, Live
Oct. 21, 7:30 p.m., Football, Conroe vs. The Woodlands, On-Demand
Oct. 28, 7:30 p.m., Football, The Woodlands vs. Montgomery, On-Demand
Nov. 4, 7:30 p.m., Football, College Park vs. The Woodlands, On-Demand