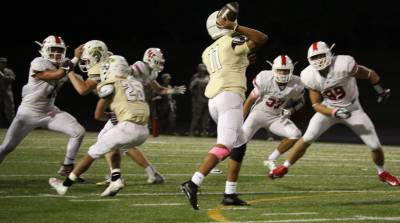 CONROE, TEXAS – With a balanced offensive assault that saw five different players score the game's five first touchdowns, The Woodlands Township High School football team grabbed an early lead and never looked back, cruising past Conroe 48-7.
"This is a longtime rivalry and an important game, even for an old guy like me," said Woodlands head coah Marck Schmid.. "We're at their stadium, and going in we knew that a win tonight would clinch a playoff spot.
The Highlanders (8-0) matched their offensive intensity with an unforgiving defensive effort that limited the host Tigers to just 31 total yards heading into the halftime locker room. As a result of their defense play, the potent Woodlands offense often had a short field to work with, and they made the most of it.
Highlander quarterback Eric Scmid threw for 219 yards and three touchdowns in just three quarters of work (the Woodlands' reserves played the fourth quarter). Two of his touchdown passes ended up in the hands of Kesean Carter, who caught four passes for a team best 91 yards.
"We always talk about playing 48 minutes, playing a solid four-quarter game," said Schmid. "They've started to do that in the last three or four weeks. Even when we're putting other kids in the game, they get in there and finish it the right way."
Woodlands rusher Carlos Ramos, The Player of the Game, had 51 yards spread evenly among catches and rushes. He ran for the final touchdown of the first half to put his team ahead by a commanding 28-0 advantage. Jordan Talford and Schmid also ran for touchdowns, and that even distribution made it impossible for Conroe to focus on any one player.
Still, that didn't stop Conroe from treating their fans to some old-fashioned, hard-hitting football in the second half. The Tigers flew to the ball and uncorked some punishing tackles in the final 24 minutes, and not once did they show signs of letting up or surrendering.
Conroe scored their lone touchdown on an impressive 71-yard drive that bridged the third and fourth quarters. The final play came on a daring fourth-and-one gamble when wideout Kelly McFarland took off on a fly pattern down the right sideline, and quarterback Colby Kizzie hit him in stride for a 48-yard score.
McFarland had a tremendous night with nine catches for 114 yards. Playing without the services of running back Donaven Lloyd, sophomore speedster Ameer Patten showed a lot of heart and carried the ball 17 times for 63 yards