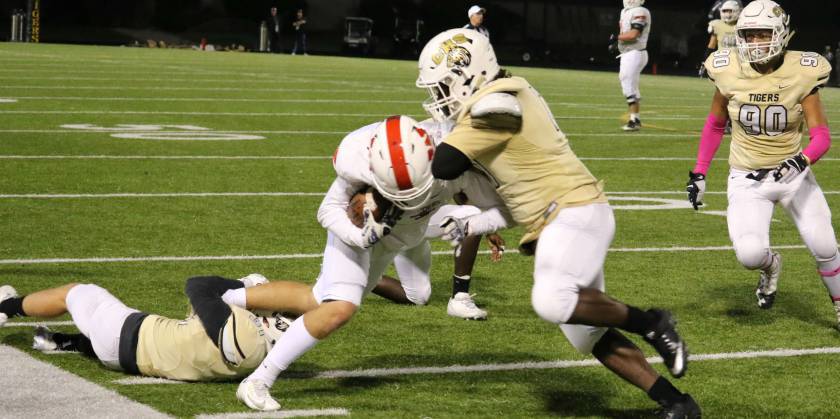 CONROE, Texas---On September 13, 2017 The Conroe Tigers face off against the Huntsville Hornets in Conroe's home opener at Moorhead Stadium. Conroe is coming off of a scrimmage against Seven Lakes High School, and Huntsville is coming off of a 17-14 win over the China Spring Cougars. Don't forget to catch this game on demand.
Conroe's star Running Back Donaven Lloyd is coming off a standout year for the Tigers and will be looking to make even a bigger name for himself this year. Lloyd will be running behind UNT Mean Green Offensive Line recruit Cole Brown. Brown has shown his versatility as a lineman, playing tackle and also being able to move around to guard and center as well. He was a first team all-district selection for Conroe last season.
It will be interesting to watch this Huntsville team and who gets most of the snaps at Quarterback. Senior Jayce Elliot and Junior Mike Jenkins will most likely be pushing for reps under center for the Hornets. Some players to look out for the Hornets Are Single Back Jordan Baker, Wide Receiver Deondrae Minor, and Running Back Jayden Baker.
This is a hard game to predict as I think this could be the toughest game for Conroe's Running Back Donaven Lloyd as this Hornets defense is very stout and is filled with playmakers. Conroe will need to find a passing game if they want to keep up with Huntsville. I predict that Huntsville will take this one 28-10.
This game is brought to you by Fair Claims Roofing. Replays are sponsored by TEAMSINISI Real Estate Group. This will be Conroe's official season opener as their game against Seven Lakes last week was a scrimmage where score wasn't kept. Home-field advantage is could be an added luxury for Conroe, however; last year, the Tigers swarmed the Hornets on the road, earning a 34-25 victory at Huntsville High School. A win against Huntsville could give Conroe quality momentum as they prepare for their first district foe, the Oak Ridge War Eagles, on September 29.