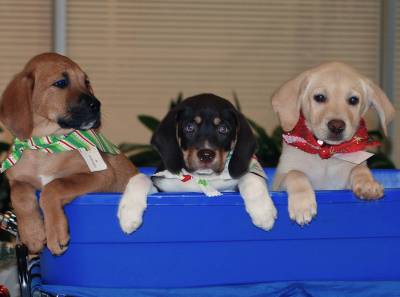 THE WOODLANDS, Texas -- The Woodlands Mall has invited Operation Pets Alive (OPA) to host pet adoptions every Friday, Saturday and Sunday through Christmas eve, on the plaza outside of Barnes and Noble.
From noon to 7pm, OPA's volunteers will showcase available puppies, kittens, mature dogs and cats for adoption. All adoptable pets come from the Montgomery County Animal Shelter, the Conroe Animal Shelter, or from within our Montgomery County community.
OPA volunteers will also be offering hand-crafted items for all pet-lovers; dog and cat toys and colorful accessories. All merchandise available for purchase is donated, and all handmade by OPA's volunteers, who have also created cookbooks, festive holiday cards and 2017 calendars featuring OPA alumni pets.
Every dollar raised through donations for merchandise goes directly to support OPA's life-saving rescue programs.
Susan Stevenson, Administrative Assistant for The Woodlands Mall Management shares, "We at The Woodlands Mall continue to support Operation Pets Alive because of its impressive history of rescuing unwanted dogs and cats from local shelters, and finding loving homes for them through local adoption in our community and through their Transport Programs to the Northeast and Colorado. Through September of this year alone, OPA has found homes for 1,632 displaced companion animals. What an incredible accomplishment! I have a "grand puppy" that my daughter adopted just two weeks ago. His name is Tucker and is doing awesome! I am so proud to work for a company that has an ongoing relationship with Operation Pets Alive, and am always so happy to have them here."
Marcia Piotter, founder and president of Operation Pets Alive! offers this message: "We are grateful to The Woodlands Mall for allowing us, once again, to host pet adoptions during this holiday season. So very many innocent dogs and cats find themselves at our shelters. Our OPA volunteers, supporters and donors … hundreds … work so hard to foster them and ensure their medical needs are met so that they find the loving homes they deserve. My Christmas Wish is that our community becomes one safe for all unwanted, loving pets. One where homeless pets are united with families who can cherish and nurture them, and revel in their unconditional love."
In addition to Holiday Pet Adoptions, The Woodlands Mall has also invited Operation Pets Alive! to offer gift-wrapping services to Mall customers for a minimum donation, so that they too can support the homeless animals in our community. Every day from December 9th through Christmas Eve, OPA volunteers will be stationed near the Food Court in the Mall to wrap gifts for customers.
All wrapping supplies have been donated by generous OPA volunteers, and all donations will directly support OPA's life-saving programs. Last year alone over 2,100 animals benefited from OPA programs, and this year OPA is on target to help even more.
Operation Pets Alive! is a 501(c)(3) non-profit, all-volunteer animal rescue organization striving to elevate Montgomery County to a No Kill community through innovative programs that:
Raise community awareness
Reduce the number of dogs and cats that enter our local shelters
Increase the number of dogs and cats that leave our local shelters alive
See more about Operation Pets Alive on its website, www.operationpetsalive.org, and on Facebook at www.facebook.com/OPATexas/
Operation Pets Alive Stories: (2)