Conroe Animal Adoption Center over capacity; seeking foster and/or forever families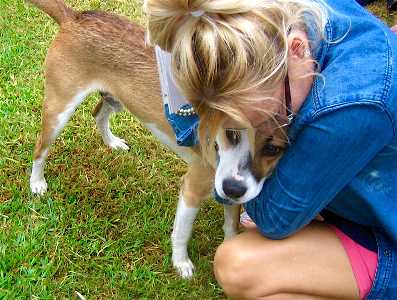 The Conroe Animal Adoption Center (CAAC) located in the city of Conroe, TX, and Operation Pets Alive! (OPA), a local area non-profit Animal rescue, urgently need YOUR help to save lives! The shelter is currently over-capacity. OPA is reaching out to those in our community to help avoid euthanasia of healthy, adoptable dogs. Many of these are longer-term dogs, who through no fault of their own, have been overlooked for adoption, and whose lives are now at risk.
Operation Pets Alive is looking for foster families, to take a pup into their home and care for it. If the pup is eligible for one of OPA's Transport Programs, the duration of time in your care could be as short as two weeks. Other pups will be local adoption candidates through OPA, and families just need to bring the pet to Adoption Events offered each weekend, and field any adoption inquiries that come from potential, local adopters.
When you foster for Operation Pets Alive, you will not be alone. With over 150 active fosters at any given time on their Team, they will help guide you through your fostering experience. OPA supports all foster families with necessary veterinary services, and if needed, food and supplies for your foster pet.
If you can find room in your heart and home to help a pup in need, Operation Pets Alive will be at the Conroe Animal Adoption Center located at:
407 Sgt. Ed Holcomb Blvd, Conroe, Texas 77304
, this Thursday, March 8, from 9am-noon, and 2-5pm. OPA invites you to come to the shelter, and meet the dogs needing fosters. They will be participating in a 'Dogs Playing for Life' Play Group. You will have an opportunity to observe them at play with other dogs, and select a pup that is a good fit for your family and home situation.
If you have any questions about fostering, OPA invites you to email them at:
Additionally, you may visit their website at:
Dogs Playing for Life (DPFL) is an exciting new Program that Operation Pets Alive is launching at both our County Shelters, the Montgomery County Animal Shelter (MCAS) and the Conroe Animal Adoption Center this week. The Initial Training, OPA and the DPFL Team are providing at both shelters, was all made possible through a grant from the Animal Farm Foundation.
Dogs Playing for Life is a program designed to enhance the quality of life for shelter dogs while kenneled, by allowing dogs to do what comes naturally to them ~ PLAY! With daily, supervised Play Groups, dogs not only get much needed exercise, but reap the benefits of less stress, anxiety and the frustration of kennel life. The Program also serves as a valuable tool to provide behavioral insight about each dog, and determine how well a dog socializes with other dogs ~ all information that aids in making good adoptive choices for shelter pups!
Operation Pets Alive remains committed to elevating Montgomery County TX to a No Kill Community. Their Foster Program is just one way they save the lives of thousands of pets' lives each year. Last year alone OPA rescued over 3,125 homeless pets from our County Shelters and from within our community. The Dogs Playing for Life Program is another way to help save lives of shelter pups, by reducing behaviors that can result from the frustration of kennel life, and putting animals lives at risk. OPA is also looking for volunteers to help sustain the DPFL Program moving forward.
To learn more about the Dogs Playing for Life Program in general, please visit their website at:
If you would like to get involved as an OPA 'Dogs Playing for Life' volunteer, email Operation Pets Alive at:
OR, contact the Volunteer Coordinators directly at MCAS or CAAC
Operation Pets Alive Stories: (2)