/

/

Operation Pets Alive revving up for annual rescue ride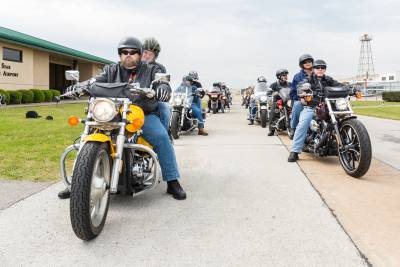 CONROE, Texas -- Braap! Operation Pets Alive (OPA) is revving up for it's Third Annual OPA Rescue Ride, Saturday, April 22, 2017.
Calling riders, back-warmers, guests, vendors, sponsors, donators and more to join them for a day of family friendly rescue fun, all to benefit Operation Pets Alive, a 501(c)(3) non-profit, all-volunteer organization striving to elevate Montgomery County to a No-Kill Community through innovative programs that help save the lives of thousands of unwanted and homeless pets in our Community every year.
The day kicks off for all April 22, at 9:30 a.m. with A 'Flight for Life' at Galaxy FBO, Conroe-North Houston Regional Airport. OPA fosters and volunteers, riders and guests will gather to send off our rescue 'Flight for Life', where up to 60 homeless pets will board with our partners at Hank's Flights, and take to the skies destined for the Rocky Mountain State of Colorado and on to second chances at life with loving forever families. A breakfast through the Black Walnut Cafe will be offered to Riders and guests alike. Wheels up at 10 a.m.
The Motorcycle Rescue Ride follows. Kickstands up at 11 a.m. Riders will blip the throttle, and head out for a scenic 75 mile ride through the countryside of Montgomery County. The ride includes several stops, and wraps up at Southern Star Brewing Company in Conroe, TX, for a huge family friendly After-Party and Celebration/Fundraiser, featuring Southern Star's First Annual BBQ Cook Off to benefit Operation Pets Alive, Food Trucks, Silent Auction, Live Entertainment, Vendor Booths, Raffle, Games, Dog Demonstrations, Pet Adoptions and more.
As part of the big OPA Rescue Ride Event, OPA will be raffling off a brand new HARLEY-DAVIDSON 2016 XL 1200CX SPORTSTER ROADSTER™! Raffle tickets are available now, and just $25 each with all proceeds going to support the work OPA does with the homeless pets of Montgomery County. The Sportster Roadster™ retails for $11,299 and is on display at Texan Harley, 2111 N. Frazier in Conroe TX through the day of the Rescue Ride, Saturday April 22 2017. It will then be transported to the Rescue Ride After-Party Celebration/Fundraiser at Southern Star Brewing Company and the winner will be drawn and announced at 5pm. Full raffle details and tickets are available at: www.oparescueride.org/harleydavidsonraffle.
Don't miss out on the biggest Rescue event in Texas! More info at: www.oparescueride.org
Riders and Guests
Registration Fee is $40 per rider, and $70 per double riders (includes T-shirt and entrance to after-party at Southern Star Brewing Company).
Guests pay $12 entry fee at Southern Star Brewing Company, children under 12, free admission.
Vendors
Vendor Booth Registration/Participation is $125. Vendors may register up to a week before the event.
Sponsors
Several Sponsorship levels are available beginning at $250 for our Wags and Whiskers level, all the way up to $2,500 for our Top Dog Sponsorship. All come with benefits.
Silent Auction Item Donators
Operation Pets Alive welcomes any donations for our Silent Auction. In the past businesses and individuals have donated themed gift baskets, gift cards/certificates for merchandise and/or services, vacation getaways and more!
Locations
Flight for Life and Rescue Ride:
Meet at Galaxy FBO, Conroe-North Houston Regional Airport, 2971 Hawthorne Dr, Conroe TX 77303
After Party/BBQ Cook-Off/Fundraiser:
Ride ends and celebration begins at Southern Star Brewing Company, 3525 N. Frazier St., Conroe TX 77303
For more information, or to sign up as a rider, vendor or sponsor, donator and more, 'Get Your Rescue Ride On' at www.oparescueride.org