/

/

41 Conroe ISD Students Named TMEA All-State Musicians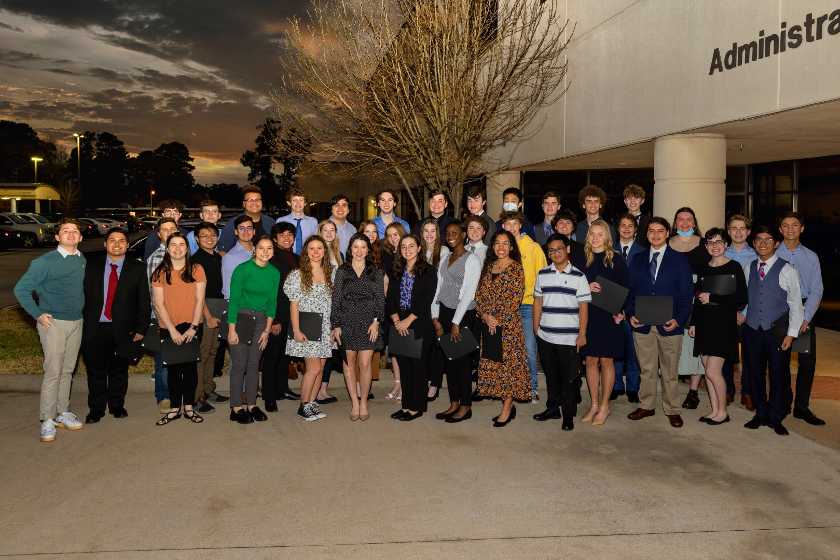 CONROE, TX -- The Conroe ISD Board of Trustees gave special recognition to the 41 Conroe ISD students named 2022 Texas Music Educators Association (TMEA) All-State musicians at their meeting on Tuesday, February 15.
The TMEA All-State competition takes the highest-ranking musicians judged at area competitions to perform in an All-State music group at the TMEA Convention in front of thousands of attendees. Over 1,800 students are selected through a process that begins with over 70,000 students from around the state vying for this honor to perform in one of 16 ensembles (bands, orchestras, and choirs). Less than 2.6 % of musicians who initially audition become All-State musicians, and 41 of these students are from Conroe ISD.
Conroe ISD All-State Musicians are as follows:
Symphonic Band – Alex Bass-Hill, Jaxon Clough, Dylan Cruz, Brent Humberson, and Jacob Kozlowsky
Concert Band – Gabriel Arias, Logan Bass, Joseph Estraca, Lindsay Glaccum, Nathan Khambatta, Sam Kosieja, Sarah Kozlowsky, Matthew Lansangan, Meredith Lee, Ethan Loxterman, Sarah Pickle, Ella Reeves, Peyton Tabor, and Aldo Villanueva
Mixed Choir – Malachi Burke, Gwendolyn Goetz, Santino Hallare, Samuel Hopkins, Rusetsa Karamagi, Greta Lamb, Jackson Phillips, Ethan Reyes, Mercer Sadlier, Meaghan Walsh, McLain Weaver, and Maryn West
Philharmonic Orchestra – Santiago Amieva Sanchez, Liam Bustos, Charles Helton, and Justin Huang
Symphony Orchestra – Griffin Keene
Tenor-Bass Choir – Benjamin Powell and Bryce Veazey
Treble Choir – Kimberly Altamirano, Georgia Sophia Hickman-Chow, and Alexia Rivera
Dr. Robert Horton, Coordinator of Fine Arts, presented the students to the Board. In his address, he also recognized the work of the outstanding fine arts teachers in support of the students.
To learn more about Conroe ISD's Fine Arts programs, please visit https://www.conroeisd.net/tl/fine-arts/.