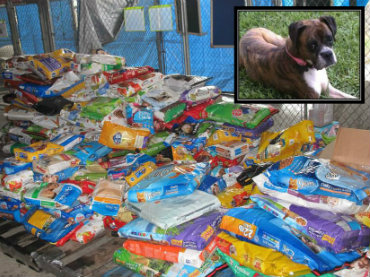 MONTGOMERY COUNTY, Texas - The jig is up. Jiggs, the mascot of Mr. Rooter Plumbing of Montgomery County, is calling for all pet food donations by the end of June. The annual pet food drive kicked off every spring, is shifting into high gear to collect as much pet food as possible, to aid the Montgomery County Animal Shelter with its high volume of intakes.
Pet food collection through June to aid animal shelter with high volume of intakes.
The family-owned and operated business has a special place in its heart for the four-legged members of the community. Jiggs was a rescued pet .
"The shelter is overcrowded in the spring with pregnant strays, puppies and kittens," said Natalie Saikowski, Executive Vice President of Mr. Rooter Plumbing. "The shelter's food supply runs short this time of year, so we want to help by involving our community and valued customers."
Until the end of June, the company will issue a $50 discount coupon for a donation of a bag of dry pet food or six cans, for either dog or cat, at the time of service. Individuals wishing to contribute, who are not in need of service at this time, can do so by dropping donations off at the office of Mr. Rooter Plumbing located at 25351 Borough Park Drive, The Woodlands, Texas (77380).
The growth of the business is attributed to the company's business philosophy that conveys a more empathetic approach towards not only their customers, but the needs of the community. The Montgomery County Animal Shelter is just one of them. In turn, residents recognized Mr. Rooter Plumbing for their quality of service and commitment to the community, by voting them Best Plumber and Plumbing Services in the 2015 Best of the Woodlands contest sponsored by Woodlands Online.
For more information about the pet food drive for the animal shelter, or for Mr. Rooter Plumbing's services, call 936-539-4000. To see the list of their varied services visit the link provided.
#OptToAdopt #MCAS