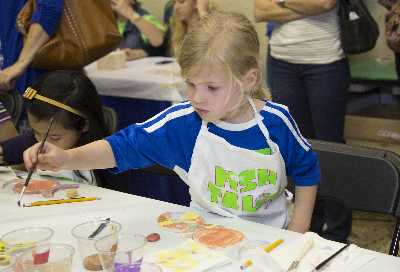 THE WOODLANDS, Texas -
The Woodlands Children's Museum
The Woodlands Children's Museum is celebrating National Grandparents Day – by inviting them for a special day of learning and adventure with their grandchildren.

The fun starts at 10 a.m. on Sunday, Sept. 13, and lasts until the museum closes at 5 p.m. On this day, up to two grandparents per family will be admitted free of charge.

"National Grandparents Day is all about honoring grandmothers and grandfathers – and giving them the opportunity to share experiences with their most valuable gift of time," Angela Colton, the museum's executive director, said. "We invite the whole family to come out and celebrate."

The museum also celebrates grandparents year-round by offering them a special membership package.

For a $57 annual fee, a grandparent gains free general admission for a year – for up to four designated family members per visit. Grandparents must accompany each child.

The Woodlands Children's Museum, located at 4775 W. Panther Creek Dr. Suite 280, offers a full calendar of exciting activities and a number of outreach programs. To learn more about the museum, its hours of operation and ways to support the nonprofit, call 281-465-0955 or visit woodlandschildrensmuseum.org.

Now celebrating its fifth year at its current location, The Woodlands Children's Museum is a 501(c)3 nonprofit organization dedicated to educating, empowering and exciting children and their families in lifelong learning and discovery. The Museum also provides multi-ethnic and multicultural experiences encouraging children to celebrate and embrace cultural and global differences and strengthen common bonds. Year-round, hands-on activities – from reading and art to science and magic –are all intended to make a positive difference in the life of a child. The museum also offers free admission to military personnel and their families and is a proud member of the Blue Star Museums program. woodlandschildrensmuseum.org.