/

/

Over 100 million expected to travel this holiday season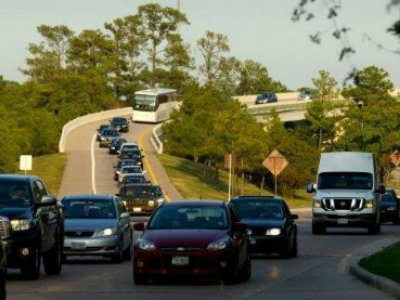 TEXAS - Greyhound, the largest provider of intercity bus transportation, is gearing up for one of the busiest holiday seasons, with more than one million customers expected to travel to more than 3,800 destinations across North America.
AAA predicting record number to travel more than 50 miles during holidays.
For the first time on record, the American Automobile Association projects that more than 100 million Americans will journey 50 miles or more from home. This is the seventh consecutive year of year-end holiday growth.
"The peak travel days are expected to be Dec. 23 and Dec. 24, as these are the days when most customers travel to their holiday destinations," said Bill Blankenship, chief operating officer, Greyhound Lines, Inc. "It's all about connecting with friends and family during this time of year, and the record number of people traveling is going to make the roads very taxing. However, our customers can sit back, relax and enjoy a hassle-free end-to-end travel experience riding on one of the more than 1,200 new coaches that feature modern on-board amenities such as free Wi-Fi, power outlets, leather seats, extra legroom and restrooms."
Throughout the year, Greyhound has continued to make travel easier for its customers with its introduction of new travel tools that customers can use during the holiday season, including BusTracker, which rolled out in June. BusTracker helps customers track the real-time location of their bus and gives real-time information about whether their bus is early, on time or delayed.
Greyhound's new website features a fresh modern design that offers new fare options with a variety of benefits such as free checked bags, priority boarding and additional Road Rewards points. It also includes information about route details that inform customers what to expect during their journey, information about the types of stops and what services are available at each stop. In addition, customers can easily sort search results by departure time, price or fastest route, and compare online versus offline prices to find the best deal.
Last month, Greyhound partnered with Parking Panda the nation's leading provider for on-demand parking, to provide customers with the ability to discover and reserve parking online near select Greyhound terminals. Customers now are able to book their Greyhound travel, search and compare available parking options and prices, and reserve and pay for a guaranteed spot creating a seamless ground transportation experience.
"We are dedicated to continuing to enhance our customers' experience by making it as simple as possible to travel with us," said Blankenship. "These tools take the uncertainty out of travel and help create a seamless, hassle-free travel experience that enhances our customers' overall experience with Greyhound."
The transportation leader also offers self-service ticketing kiosks at major terminals, Wi-Fi enabled terminals and a book on-line/pay with cash service. Tickets can be purchased on www.greyhound.com, on the new Greyhound mobile app, by calling 1-800-231-2222 or at company terminals and agencies.
Greyhound encourages customers to purchase tickets in advance and arrive at least one hour before their scheduled departure time. Tickets are valid only on the date and schedule for which they were purchased. If customers wish to change travel arrangements, tickets can be re-issued for a fee if seats are available.
Along with the company's traditional service, its popular Greyhound Express® service offers direct service between more than 1,000 intercity pairs in more than 135 major cities, covering more than a third of the company's North American network. Customers can purchase their ticket at www.mygreyhoundexpress.com, print their ticket at home or pick it up at a self-service ticketing kiosk, and know a guaranteed seat is waiting for them. Additionally, customers who book Greyhound Express tickets can relax in private waiting areas, with a dedicated guest services specialist to provide an extra level of customer assistance.
See related story Increased patrols during holiday season to apprehend DWIs and the related video from Trooper Erik Burse, the Safety Education/Public Information Officer for the Texas Department of Public Safety.
#DriveSafely #DontDrinkandDrive