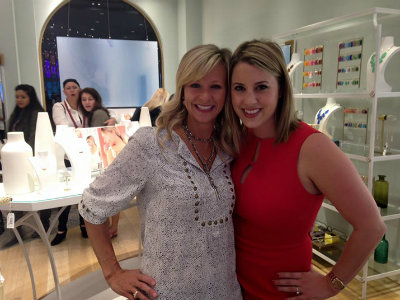 MONTGOMERY COUNTY, Texas — Montgomery County Youth Services (MCYS) invites all ladies to attend their 18th Annual Ladies Night Out event.
This year's theme is "Carnaval." The event is set for Thursday, April 29, 2016 from 7:00 to 11 p.m. at The Woodlands Waterway Marriott. The 2016 Ladies Night Out Committee, led by Co-Chairs Erin McDowell and Megan Mitchell created a "Carnaval" theme including sponsorships such as "Copacabana", "Rio" and "Magic Ball."
This ladies-only evening features music from DJ Damon Pampolina, a pulsating photo booth, pampering stations, silent auction, luxury jewelry raffle sponsored by IW Marks Jewelers and contests. All proceeds benefit MCYS. Silent auction items include a sculpting treatment from Rivela Plastic Surgery, use of beach homes on Galveston Island and Orange Beach, Alabama, a Louis Vuitton purse and a dinner for eight at the Woodlands Firehouse.
"This year's Carnaval theme is sure to be over the top," said Michelle O'Rourke, Chief Development Officer for MCYS. "Each year we continue to grow with this event. With over 500 ladies attending and giving financial donations plus counting on the support of our sponsors and donors, we are able to provide services for homeless youth and crisis counseling services for youth and families, while having a great time. Our event will bring out wonderful costumes, and a great party atmosphere."
Tickets are now available for purchase. Individual seated tickets for $200, dinner is included. Table prices start at $1500 and go up to $5000, all tables seat 10 and are available online at www.youthmc.org.
Current sponsors include: Anadarko Petroleum Corporation, IW Marks Jewelers, Kendra Scott Jewelry, STI, LLC, Americas Restaurant, Woodlands Screen Printing, GTIN Managed IT Services, The Molina Team, Rivela Plastic Surgery, Sylvia Caracio, Montgomery County Farm Bureau Insurance, Rodgers Stein Chiropractic Center, Jennifer and Bob Malone, Erin and Craig McDowell, Royal Guinte, Morris Builders, Silver Eagle Distributors, Mirage Custom Pools, BMW The Woodlands, My Generations Boutique, Woodlands Heating & A/C and J. Beard Real Estate.
For more information, please contact Adriana Garcia at Adriana.garcia@youthmc.org, 281-292-6471 or buy tickets online at www.youthmc.org.