/

/

Blue Bell Ice Cream recalls mispackaged pints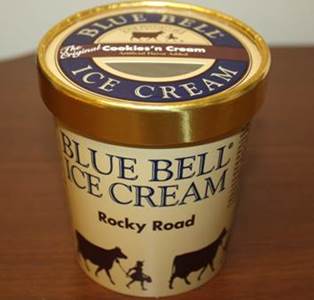 BRENHAM, Texas - Blue Bell Ice Cream is voluntarily recalling select lots of Rocky Road pints produced in its Brenham, Texas, plant because they may be mispackaged and actually contain Cookies 'n Cream Ice Cream. That ice cream contains the undeclared allergens soy and wheat, which may present a serious or life-threatening allergic reaction risk to people who have an allergy or severe sensitivity to soy or wheat.
Rocky Road pints contain Cookies 'n Cream ice cream.
No illnesses have been reported to date, and there are no other health or safety concerns except for those posed to people that have soy or wheat allergies. A Blue Bell employee discovered the incorrect packaging while restocking a retailer.
The pints can be identified as a Rocky Road pint with a Cookies 'n Cream lid, and contain Cookies 'n Cream Ice Cream. They can also be identified by the following code located on the bottom of the pint: 022918576. A picture of the affected product is included below.
The ice cream pints were distributed in Texas and Louisiana through retail outlets, including food service accounts, convenience stores and supermarkets.
PRODUCT: Rocky Road Ice Cream pints with Cookies 'n Cream lid and Cookies 'n Cream product.
CODE DATE: 022918576
Consumers who have purchased these items can return them to the place of purchase for a full refund. For more information, consumers with questions may call 979-836-7977, Monday – Friday 8 a.m. – 5 p.m. CST.