Make new friends but keep the old at The Woodlands Children's Museum on Friendship Day Aug 1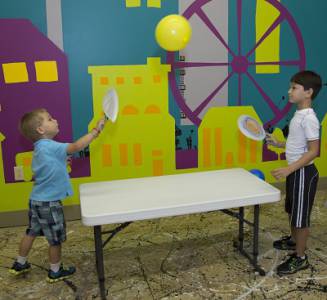 The Woodlands Children's Museum is the place to go to play with new friends – and an ideal outing for long-lasting companions.

On Friendship Day, the museum offers one admission free of charge per party of guests.

"Free admission will be granted for one friend accompanying our visitors and members," Angela Colton, the museum's executive director, said. "We want everyone to have a fun time on Friendship Day."

The fun begins at 10 a.m. and lasts until 5 p.m. on Monday, Aug. 1.

The Woodlands Children's Museum is open seven days a week during the summer. Daily admission is $6 per person 1 year and older. The museum is recommended for ages 7 and under.

To learn more about The Woodlands Children's Museum, its hours of operation and ways to support the nonprofit, visit woodlandschildrensmuseum.org or call 281-465-0955. The museum is always looking for sponsors or partners for events. Follow the museum's Twitter handle @thewoodlandscm.

The Woodlands Children's Museum is a 501(c)3 nonprofit organization dedicated to educating, empowering and exciting children and their families in lifelong learning and discovery. The Museum also provides multi-ethnic and multicultural experiences encouraging children to celebrate and embrace cultural and global differences and strengthen common bonds. Year-round, hands-on activities – from reading and art to science and magic – are all intended to make a positive difference in the life of a child. The museum also offers free admission to military personnel and their families and is a proud member of the Blue Star Museums Program.
For more information visit The Woodlands Children's Museum.






Bring a friend to The Woodlands Children's Museum on Monday, Aug. 1, to play games and have fun in celebration of Friendship Day.



Media Contacts:
Susan Love Fitts Communications


Susan Love Fitts, 936-597-8825
susan@susanlovefitts.com



Lindsay Peyton, 281-636-1361
taylorpeyton@gmail.com