Put on Your Flip Flops and Head to Margaritaville Lake Resort Spring Break 2023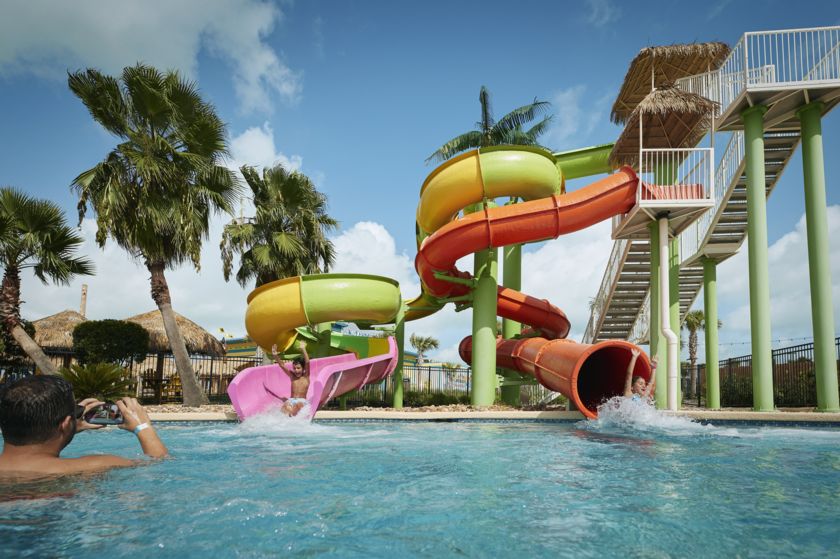 MONTGOMER, TX -- Spring into paradise this Spring Break with a trip to Margaritaville Lake Resort, Lake Conroe | Houston.
An easy road trip from the Greater Houston area, Dallas, San Antonio, or Austin, Margaritaville Lake Resort, Lake Conroe provides the perfect backdrop for an ultimate Spring Break vacation.

"We look forward to welcoming families and students from across Texas to spend their Spring Break at Margaritaville Lake Resort," said Tom Faust, vice president of sales and marketing of Margaritaville Lake Resort, Lake Conroe | Houston. "Whether you are looking to relax by the pool, play golf, unwind at the spa, or explore Lake Conroe, we are the perfect spring break destination."
Spring Breakers wanting to enjoy some fun in the sun will want to check out the resort's three-acre Jolly Mon Water Park, which includes a lazy river, splash zone, waterslides, hot tub, and five pools. If you crave adventure, get out on Lake Conroe with a boat or choose from a wide selection of watercraft rentals, including electric paddle boats, stand-up paddleboards, ski boats, pontoon boats, or kayaks.
If it's rest and relaxation you're after, you don't have to go far. Steps away from your lake view suite or lakeside cottage, you'll find St. Somewhere Spa, an 18,000-square-foot wellness retreat offering various spa and salon services. Decompress in one of the steam rooms or the sauna, and then unwind in the relaxation lounge. Maintaining your workout routine over Spring Break will be as easy as ever with access to the Fins Up Fitness Center, a 10,000-square-foot facility with state-of-the-art fitness equipment, including free weights, cardio equipment, Pilates machines, indoor racquetball courts, complimentary fitness classes, and more.
Reserve your tee-time at the Club at Margaritaville Lake Resort and meander through a landscape of tall pines, sandy beach, and cascading waterfalls that create one of the most enjoyable golf experiences in Montgomery County. If golf is not your thing, try the latest craze with a game of pickleball.

Margaritaville Lake Resort offers everything you need to make this the best Spring Break ever, including six tropical-inspired restaurants. Enjoy lunch or dinner lakeside at LandShark Bar & Grill with traditional beach fare, including fish tacos, burgers, and more. Indulge in a mouth-watering buffet at License to Chill Bar & Café on the guest tower's second floor or grab a sandwich and your favorite caffeinated beverage at Joe Merchant's Coffee & Provisions. For a taste of the nightlife, check out Boathouse Bar & Lounge. The outdoor 5 o'Clock Somewhere Bar and Lone Palm Pool Bar serve up refreshing tropical-infused cocktails.
Throughout the week, there will be plenty of special activities to keep everyone entertained, including a Margaritaville Lake Resort duck race, Hawaiian fire dancers, cigar rolling, and a balloonist. There also will be several live musical acts on-hand during Spring Break to keep the good times rolling:
Velvet Drive – Saturday, March 11 from 9 p.m. to 1:30 a.m. @ Boathouse Bar & Lounge
Payton Howie – Sunday, March 12 from 4 p.m. to 8 p.m. @LandShark Bar & Grill
Rapture Duo – Monday, March 13 from 4 p.m. to 8 p.m. @LandShark Bar & Grill
Tony Bastida – Tuesday, March 14 from 4 p.m. to 8 p.m. @ LandShark Bar & Grill
Paul Byron – Wednesday, March 15 from 4 p.m. to 8 p.m. @LandShark Bar & Grill
Michael Rafferty – Friday, March 17 from 5 p.m. to 9 p.m. @LandShark Bar & Grill
John Acevedo – Saturday, March 18 from 5 p.m. to 9 p.m. @Waterside Cove
Pedro Latouf – Saturday, March 18 from 5 p.m. to 9 p.m. @LandShark Bar & Grill
Jonah Miles – Saturday, March 18 from 5 p.m. to 10 p.m. @License to Chill
The Outsiders – Saturday, March 18 from 9 p.m. to 1:30 p.m. @ Boathouse Bar & Lounge
The resort is currently offering several Spring Break packages, including "The Weather is Here." Those who book receive a daily $50 resort credit for the dining experience of their choice. For a detailed list of notable events happening at Margaritaville during Spring Break 2023 and to book your getaway, visit the destination guide.

For more information on Margaritaville Lake Resort, Lake Conroe | Houston, visit https://www.margaritavilleresorts.com/margaritaville-lake-resort-lake-conroe