/

/

Local BBQ pitmaster champion continues winning streak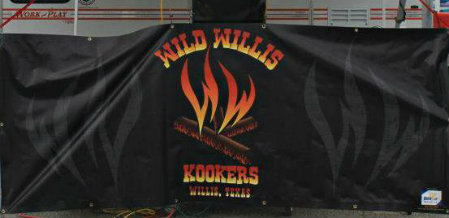 CONROE, Texas -- Montgomery County can boast of having some of the best barbecue in the state, and it's not at a restaurant. Once again, Lang "Bull" Chapman has 'bulled' his way through another successful cook-off. Winning Reserve Champion in a field of 40 champion 'pitmasters,' Chapman's Wild Willis Kookers took first place with chicken, sixth in brisket, and ninth in ribs, at the R&O Cookoff, an invitational competition just for Grand Champions and Reserve Champions.
Lang 'Bull Chapman of Willis wins Reserve Champion at invitational BBQ cook-off.
This 'best of the best' competition is held annually mid-December in north Texas. The 40 champions braved extreme weather with temperatures in the mid-twenties, for prize money, trophies, and bragging rights.
"I was just lucky" said Chapman. "There are so many variables that come into play at these competitions, one being the level of competition. This one was all Grand Champions and Reserve Grand Champions, so I had to have luck on my side."
Chapman is no stranger to the winner's circle. Among his accolades include the 1st Annual Cowboy Round Up Jason Pelton's 'Cookin' for the Kids' Barbecue Cook-off in which he took an unprecedented first place in four meat. (See previous story…Chapman bulls his way to Grand Championship cook-off.
Chapman also won the Grand Championship at the 2012 Harris County Fair BBQ Cook Off, and was on the championship winning team at the Houston Livestock Fair and Rodeo in February 2012. Chapman will fire up his pit again in January, when the Texas Gulf Coast BBQ Cookers Association hosts the 25th annual Texas State Championship Hold'em & Hit'em BBQ Cookoff at the Farm and Ranch Club in west Houston. The competition will be held January 18-20; the public is invited to attend. Stay tuned to Conroe Today to find out when "Bull" Chapman will be competing in a cookoff in Montgomery County.