/

/

Wild Willis Kookers bring home another bar-b-q Grand Championship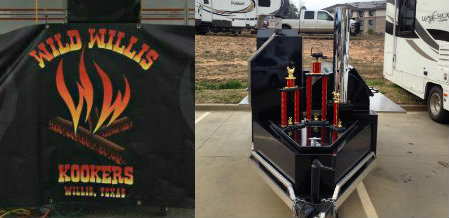 MONTGOMERY COUNTY, Texas -- The Wild Willis Kookers continue their winning ways with another Grand Champion win at the the first annual Shelby County Grill Fest Saturday, March 22. Lang 'Bull' Chapman took 1st place with Chicken, 4th in Ribs, and 3rd for his Brisket, for the overall Grand Championship at this recent bar-b-q competition.
Just a little over five years entering bar-b-q 'comps,' Chapman, has been in the winner's circle many times, having won Grand Champion at the 2012 Harris County Fair BBQ competition with two first places and a third, and the 1st Annual Cowboy Round-Up Jason Pelton's 'Cookin' for the Kids' Barbecue Cook-off where he took an amazing four first places, winning first place in all four meat categories: beef brisket, pulled pork, ribs, and chicken. He was also a team member on the winning bar-b-q team at the 2013 Houston Livestock Show & Rodeo.
Always modest when winning, Chapman was quick to credit the judges.
"On any given day, it's anybody's game at these cook-offs," said Chapman. "It's entirely in the hands of the judges."
He also gave a shout out to other deserving individuals.
"Congrats to Braun Cyr for his RGC (Reserve Grand Champion), and to Olie Willis and everybody else who got their walks," said Chapman, referring to 'taking the walk' to pick up your award.
Last year he entered the Montgomery County Fair's cook-off the night before the competition on short notice, and took third place out of 122 teams. At many other competitions, he's 'walked' for at least one or more categories. Again, giving credit where he feels credit is due.
"Thanks to Pitmaker and R&O, Billy Overton, for their outstanding BBQ Pits," added Chapman.
Wild Willis Kookers belongs to several BBQ associations...Texas Gulf Coast BBQ Cookers Association, Lone Star Association, and the Central Texas Barbecue Association. He attributes the relationships he's made, and those who have mentored him, with his success at BBQ competitions.