/

/

Dunkin' Donuts introduces croissant donuts November 3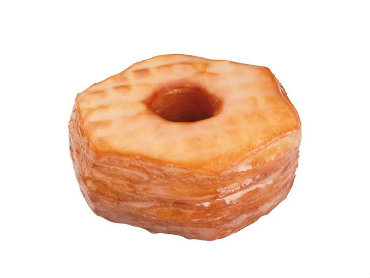 CONROE, Texas -- Dunkin' Donuts is bringing together two bakery favorites into one tasty treat, today announcing plans to launch the Croissant Donut at participating Dunkin' Donuts restaurants nationwide beginning on Monday, November 3. Dunkin' Donuts' Croissant Donut features a delicate and flaky croissant ring that is glazed like a donut. The Croissant Donut will be made in limited quantities and served each day while supplies last for a limited time only at participating restaurants nationwide. The suggested retail price is $2.49.
"Dunkin' Donuts' baking heritage goes back nearly 65 years and we are proud to extend our bakery lineup with the addition of our new Croissant Donut," said Jeff Miller, Dunkin' Brands Executive Chef and Vice President of Culinary Innovation. "The Croissant Donut has 24 layers of buttery dough and is covered with the same sweet distinctive glaze used on our Glazed Donuts, creating the ultimate pastry that is crisp on the outside and soft and flaky on the inside. We look forward to bringing this new, unique bakery item to our guests nationwide."
Dunkin' Donuts has been a leader in the donut category for nearly 65 years, selling 2.5 billion donuts and MUNCHKINS® donut hole treats annually worldwide. Within the United States, Dunkin' Donuts offers more than 70 varieties of donuts, including beloved flavors such as Boston Kreme, Glazed, Chocolate Glazed Cake and Chocolate Frosted. Houston is now home to 18 Dunkin' Donuts restaurants.