/

/

Hot Off The Grill: 3 Bar-B-Q trends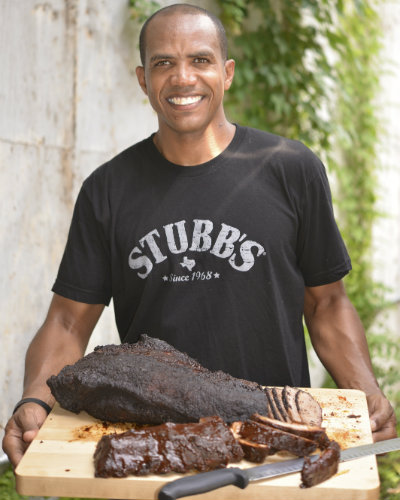 AUSTIN, Texas - National Grilling Month marks the midpoint of the summer grilling season, and is the perfect time for backyard cooks to expand their repertoires with hot new Bar-B-Q trends. Barbecue pro Rocky Stubblefield of Austin, Texas-based Stubb's Legendary Bar-B-Q offers easy tips to help grill masters and newbies alike bring these top trends to life.
July is National Grilling Month
"You've been doing the basics all summer, and now it's time to kick it up a notch. But you don't have to be an expert to make delicious, flavorful dishes in your backyard," said Stubblefield. "High quality ingredients – from sauces and rubs to your favorite meats and produce – and a few of my simple tips are all you need to grill up this summer's hottest trends."
Three Bar-B-Q trends to try now:
Boosted burgers: Stubb used to say, "It all starts with a great rub," and in 2016 that includes not only steaks, brisket and ribs, but also burgers.
Rocky's tips: Create over–the-top burgers by coating each patty with Stubb's Bar-B-Q Rub, then sprinkle with a little smoked sea salt to really enhance that smoky barbecue taste. Let the patties sit for a while before cooking – you can actually see the flavor seeping into the meat! Before you throw them on the grill, make a thumbprint in the middle of the patty to get a flat, evenly cooked burger instead of a plump, rounded one that is undercooked in the middle.
Steak stand-ins: Thick-sliced, marinated and grilled cauliflower, cabbage, eggplant and even watermelon make surprising sides, appetizers or meatless main dishes topped with bacon, cheeses, nuts or other savory ingredients.
Rocky's tips: No barbecue is complete without coleslaw, so deconstruct the classic with grilled cabbage "steaks" marinated in 3/4 cup Stubb's Sweet Black Pepper Anytime Sauce with a quarter cup of mayo mixed in. Grill them over medium heat and use the extra mixture to baste the cabbage as it cooks – just a few minutes on each side. Serve with shredded carrots and finely chopped onions on top.
Smoky heat: Americans are craving more and more heat, and smoking is the hottest new trend in backyard grilling. Join the two for a combo that can't be beat.
Rocky's tips: Get just the right amount of heat to suit your taste by mixing your favorite hot sauce with Stubb's Original or Sticky Sweet Bar-B-Q Sauce, then heat together in a pan. Throw in a little finely chopped onion for some extra tang and texture.

For smoking meats on a charcoal grill, use hardwood chunks, or on a gas grill, use wood chips. Soak wood chunks in water for 1 hour, or chips for 30 minutes, then drain before using. Burn two wood chunks for each hour of smoking, and 1 cup of wood chips for an hour or less of smoking. Try a variety of wood – hickory, mesquite or apple wood – to experiment with flavors.
Stubb's Bar-B-Q sauces, marinades, rubs and cookin' sauces offer bold, authentic flavors, are certified gluten-free and contain no artificial flavors, colorings or high fructose corn syrup. Additionally, all of Stubb's Bar-B-Q sauces are enrolled in the Non-GMO Project.
For more summer grilling recipes and trends, go to www.stubbsbbq.com/recipes/ or www.facebook.com/stubbsbbqsauce.
Stubb's Legendary Bar-B-Q, the country's No. 1 premium Bar-B-Q brand of sauces, marinades, smokes and spice rubs, started in Lubbock, Texas, in 1968 when C.B. "Stubb" Stubblefield opened his first restaurant. Today, Austin-based Stubb's continues to take inspiration from his original recipes and strict quality standards to create authentic, certified gluten-free sauces, rubs and marinades, and every bottle is still made with Stubb's secret ingredient, "Love and Happiness." Stubb's sauces have won top taste test honors from Cooking Light, Woman's Day, Redbook and more. For more information, go to www.stubbsbbq.com or connect with Stubb's on Facebook at www.facebook.com/stubbsbbqsauce or @stubbsbbqsauce on Twitter.
Stubb's is one of McCormick & Company's (MKC) portfolio brands. As a global leader in flavor, McCormick has built a portfolio of leading flavor brands that enhance people's enjoyment of food all around the world. Every day, no matter where or what you eat, you can enjoy food flavored by McCormick. McCormick Brings Passion to Flavor™.
To win a collection of Stubb's Bar-B-Q sauces enter the contest on Conroe Today by registering a Login, then entering the contest by clicking on BBQ Sauce Collection Contest