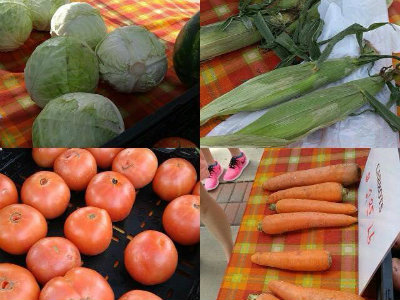 CONROE, Texas - Come see what's new at the Isaac Conroe First Thursday Farmer's Market from 4-8pm at Founder's Plaza (205 Metcalf Street) in Conroe. New vendors, live music, and a special appearance by the Christian Youth Theatre of Houston singing barbershop style!
This week the Conroe Farmer's Market will feature several new vendors- include Scrollsaw Art, organic cleaning products from New Life Cleaning, fresh homemade tamales, semi-precious stone jewelry, decorated bottles by MK Crafty Creations, Lucy's Graze and Green, and items made from horseshoes by TNT Rustic Ironworks. A sought after vendor will be organic wheatgrass and microgreens from SpringBerry Wheatgrass Growers. Wheatgrass is used for cooking, smoothies, and clean eating options. New vendor Ab Ovo will display their hand painted Russian decorated eggs. Quite an assortment of new vendors at the Hot August Farmer's Market!
Benson Bunch Farm from Huntsville and Theiss Farms from Spring will provide fresh produce and a good selection of tomatoes, fresh corn on the cob, okra, cucumbers, and fruit to the market this week.
"Our crop has been plentiful this last month, but as the days get warmer we are seeing a diminished supply. Come early to get the best selection", said Mike Theiss.
In addition to the vendors and produce farmers there will be food trucks offering vegan (Falacos), organic fruit snow cones (Snow Cone Angels), Sky Café (downhome cooking) and Cousins Maine Lobster will also be at the event. Always something for everybody!
The Montgomery County Master Gardener Association (MCMGA) will host a Plant Clinic during the First Thursday Farmer's Market, according to Master Gardener, Bill Boytim. Bring your questions on plants and insects and if possible bring specimens of the plant problem or insect with you to the clinic.
"If we can't answer your question during the Plant Clinic, we will make a note of the problem and take it back for research and an answer. This is a free service provided by the MCMGA and the Texas A&M AgriLife Extension.", said Boytim.
The 2016 First Thursday Free Concert Series will continue 2 blocks down from the market with as the opening act beginning at 6:30 pm, and the headliner Dirty River Boys 8:00-9:30 pm. The public is welcome to bring their own chairs and blankets to enjoy the music. No alcohol may be brought into the park, but water, soda, and food is allowable. Kona Ice and 3 food trucks will be on site-Kajun Asian on
Wheels, Burgers and More, and Skye Café. Children can enjoy the inflatables from Moonwalks and more while the music is playing-all free!
Live music by Michael Player a local Willis musician, will be on the Founder's Plaza with some Southern Rock. Learn more about Michael Player at www.Reverbnation.com/MichaelPlayer. The Music Man will be the live performance August 18-20 at The Crighton Theatre by the Christian Youth Theatre of Houston. As a special preview the youth in the performance will sing several ensembles from the show. They will also be selling tickets to their performance. For more information visit www.cythouston.org
Returning Vendors:
Koala and Roar Soaps
Texas Gypsy
Nyokas Naturals-balsamic vinegar
Lynne's Country Lane-homemade wood signs, décor
Vintage Foods
Barb's Bones
Called Out Scratch Bakery
Greg Holmes artwork
Mannish Indian Food
Griffin Meadery
Macaw Confections-organic chocolate
Whitman Farm Honey House
Ernie Gober-woodcraft items
Zipper Lady
And Others!
Come for the Farmer's Market in Founder's Plaza at 4:00pm, and then stay for the concert 2 blocks down in Heritage Park at 6:30 in no-where but Downtown Conroe! The entrance at San Jacinto Street will be open for participants to stop and get a bite from one of the food trucks before entering Heritage Park.
Additional vendor booths are available by contacting Margie Taylor at 936.828-6881, ExperienceDowntownConroe@gmail.com or downloading the application at www.ExperienceDowntownConroe.com/news . All proceeds benefit the Conroe Downtown Area Association and their mission to enhance the downtown Conroe area with events, tourism, and increased traffic to the merchants. Visit their Facebook page at www.Facebook.com/FirstThursdayFarmersMarketConroe or the webpage.