/

/

Even off the clock, Lonestar Ecology employees help the environment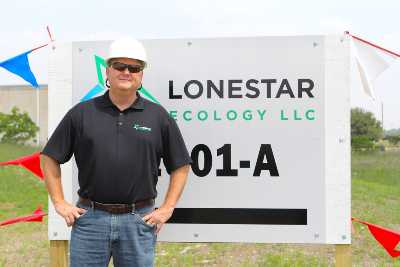 HOUSTON –- Lonestar Ecology does not limit its work helping the environment to business hours. The company is involved in community outreach efforts that match its mission year-round.
Four staff members volunteer for Household Hazardous Waste Collection event
Vice president of operations and facility manager Walt Stringer uses his expertise to help companies dispose of hazardous and non-hazardous waste.
Recently, he also spent a Saturday helping La Porte residents safely dispose of hazardous household items.
Stringer is one of four Lonestar Ecology employees who volunteered for the Household Hazardous Waste Collection sponsored by La Porte Local Emergency Planning Committee.
Joining him were chief chemist Greg Tatosian, senior environmental technician Ketran Gentry and environmental technician Justin Pickell.
Residents of La Porte, Morgan's Point and Shoreacres were invited to bring a variety of household waste products to the La Porte Public Works Service Center to be recycled or safely disposed.
Accepted items included paint, aerosols, nail polish, drain cleaners, furniture cleaners, bath and kitchen cleaners, fluorescent light bulbs, thermometers and other chemical waste that local landfills are not designed to handle.
"It feels good to work with other volunteers to ensure that this waste isn't finding its way into landfills, waterways and vacant fields," Tatosian said. "These items typically pile up since they can't be put out with the routine trash and garbage. So there's a real satisfaction in knowing that residents have somewhere to go with their hazardous waste."
The team jumped at the opportunity to volunteer.
"In my opinion, this event is a must for every county," Gentry said. "A public hazardous waste event gives citizens a place to properly dispose of the product. It's also a great way to educate people on the different hazardous products and create a cleaner, safer environment."
The collection is an annual event in La Porte. The center accepted waste from approximately 350 households on a first-come, first-serve basis.
Lonestar Ecology employees plan to help at next year's event, Stringer said.
"This is a service that Lonestar Ecology provides in other areas, so we're happy to volunteer to help right here in La Porte," he said.
Lonestar Ecology would be eager to participate in other regional household events. For more information, visit www.lonestarecology.com.