/

/

Lone Star College-Conroe food pantry opens early to assist with Hurricane Harvey relief
Lone Star College-Conroe food pantry opens early to assist with Hurricane Harvey relief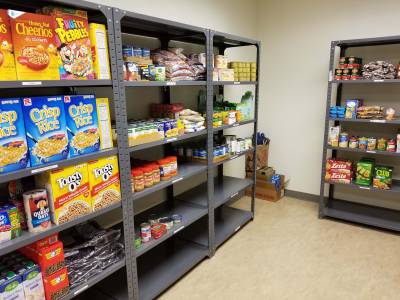 CONROE, Texas -- Hurricane Harvey has taken a heavy toll on Houston and the Lone Star College community.
Many students, faculty and staff had damage to their homes, cars and belongings and this loss has spurred Lone Star College-Conroe Center to open its on campus Food Pantry early. "We had planned to have our Food Pantry's grand opening next week, however, Hurricane Harvey has given us a reason to change plans," said Jennifer Dodd, LSC-Conroe Center Testing Center Coordinator and Food Pantry Organizer. "We are asking for specific donations so we can help those in crisis at this time." Those looking donate can drop off items at 777 Conroe Park North Drive, Conroe, TX 77303, room 107.
Items needed are:
Cleaning supplies - brooms, mops, paper towels, cleaners, gloves for indoor and outdoor work, and trash bags
Baby supplies - diapers, food, baby wash, toys, clothes, wipes, and formula
Hygiene items - shampoo, body wash, deodorant, toilet paper, feminine needs
Canned or dry food - Canned vegetables, powdered milk, pastas and sauces, bread, peanut butter and jelly, breakfast items, canned meats, juice and bottled water.
Monetary donations are also appreciated. Donate to the Montgomery County Food Bank by phone 936.539.6686 and request the funds be credited to LSC-Conroe Center or donate online at mcfoodbank.org/how-to-help and be sure to write Lone Star College-Conroe Center in the 'Description' on the second page of the form. This type of donation is extremely helpful now and in the immediate future for re-stocking the Pantry.
The LSC-Conroe Center Food Pantry's permanent home is CC100D in the Academic Advising area. It is the second Food Pantry in the LSC System. LSC-Montgomery opened an on campus Food Pantry in 2015. Like the Montgomery model Conroe Center will work with the LSC Foundation as a nonprofit corporation and as a member agency associated with the Montgomery County Food Bank.
The LSC-Conroe Center Food Pantry is open to assist LSC faculty, staff and students Tuesdays and Wednesdays from 1-4 p.m.
"Even before Hurricane Harvey we noticed the need for an on campus Food Pantry," said Dodd. "Our students have fixed expenses like rent that do not get any lower, but one of the only things that is flexible is food and that is not a place to cut back."
A recent study by the Urban Institute found that approximately 13 percent of students at community colleges experienced food insecurity in 2015.
"We are excited about helping those who need it," said Dodd. "The LSC-Conroe Center Food Pantry is accessible to students since it is right on campus. We hope those who need help feel they can also bring friends to the service. We look forward to donations from the community and the hard work of volunteers to keep the Food Pantry running year-round."
For more information about the LSC-Conroe Center Food Pantry, or if you would like to volunteer contact, Jennifer Dodd at Jennifer.O.Dodd@lonestar.edu or call 936-521-4549.