/

/

LSC Conroe Center prepares Conroe workforce for impending growth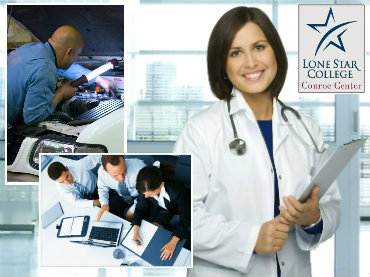 CONROE, Texas - To accommodate the growth and development in Montgomery County, Lone Star College- Conroe Center provides a full suite of academic transfer courses as well as corporate and workforce training programs. LSC-Conroe Center is located at 777 Conroe Park North Drive (77303).
LSC Conroe offering a full suite of academic transfer, medical, and workforce training courses.
The expansion of the medical community centrally located in Montgomery County, will increase the demand for qualified medical personnel and specialized medical talent. To accommodate those needs, LSC-Conroe Center offers a number of health occupation programs..
The certified nurse aide (CNA) certificate is a non-credit Fast Track program offered at LSC-Conroe and many of their other campuses. A CNA assists patients with healthcare needs under the supervision of a registered nurse (RN) or a licensed practical nurse (LPN). Financial assistance may be available for eligible students.
Likewise, the phlebotomist certificate is a non-credit Fast Track program offered at LSC-Conroe Center, as well as other Lone Star College campuses.
The patient care technician (PCT) certificate program combines the certified nurse aid (CNA) courses, phlebotomy courses, and the fundamental EKG course. This program prepares students for a national certification through the American Certification Agency (ACA) for Healthcare Professionals.
The boom in growth in Montgomery County creates a demand for additional highly-skilled workers in the technical workforce. LSC-Conroe Center accommodates those needs with programs in engineering and technology, engineering design technology, industrial diesel technology, as well as provides associate degrees and/or certifications as the precursor to a 4-year degree program, or to enter the workforce. For the full list of engineering and manufacturing programs, visit Engineering and Technology. Some programs may be free for eligible students. Inquire within.
A year ago Lone Star College started placing students on a fast track to a new career at little or no cost— thanks to the continuation of the Accelerate TEXAS Projects grant from the Texas Higher Education Coordinating Board (THECB). THECB created Accelerate TEXAS in response to the growing demand for adult basic education services at a time when Texas needs more of these students to transition to college level degree and certificate programs. For more information, visit www.LoneStar.edu/acceleratelonestar; or contact Martha Neely, grant project director at LSC-Conroe Center, at Martha.L.Neely@LoneStar.edu, or 936-521-4530.
In April of 2014, The Lone Star College-Conroe Center teamed up with Workforce Solutions to provide free workforce training to unemployed individuals seeking employment in the high-demand career fields of machining, and welding and inspection. According to the Gulf Coast Area Texas Workforce Commission, jobs in machining and welding are expected to increase by 42 percent and 26 percent respectively, in the Gulf Coast region through 2020.
Through the collaborative efforts of LSC-Conroe Center and Workforce Solutions, funding is being offered for program tuition and books, to qualifying individuals as part of the Accelerate Lone Star initiative. This grant program allows qualifying Lone Star College System students to earn a workforce certificate while building core skills in math, reading, and language during a coinciding support class. The program provides a great opportunity for those seeking to be in the job market within six to eight months. Interested individuals are encouraged to contact Martin Sanchez, Accelerate Lone Star advisor, at 936-521-4552.
LSC-Conroe Center also provides students and the community with on-site tutoring, testing, library services, corporate training, community meeting facilities, an on-campus bookstore and more. For more information about LSC-Conroe Center, call 936-521-4500, or email mcorientation@lonestar.edu and the LoneStar.edu website.