/

/

Dr. Lori returns to Fall Home & Garden Show The Woodlands Aug 13& 14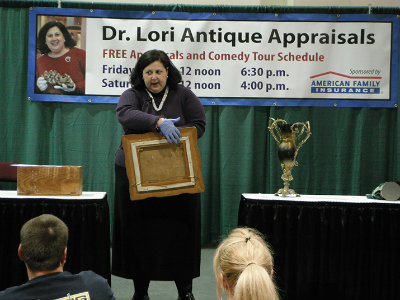 THE WOODLANDS, Texas – Homeowners who wish to update their homes or landscapes – or both – in anticipation of the cooler Gulf Coast weather can find the ideas, products and experts to help them execute their plans, all under one roof. With over 200 exhibitors providing the latest in home improvement, homebuilding, advice and trends, the 14th Annual Fall Home & Garden Show The Woodlands is the place to find it all.
This year the show welcomes the return of the always-popular Dr. Lori Verderame, syndicated columnist and star antiques appraiser on the Discovery Channel's "Auction Kings." Dr. Lori will be on-hand both days of the show to provide one free appraisal – complete with her comedic twist – to each of those in attendance bringing an item for her identification and valuation.
On Saturday, Randy Lemmon, host of KTRH AM 740's GardenLine is scheduled to hold a signing event for his newest book, "Texas Tough Gardening with Randy Lemmon," a primer to help local gardeners conquer the challenges of gardening in Texas' extreme weather.
WHAT: The 14th Annual Fall Home & Garden Show The Woodlands.
WHEN: Saturday and Sunday, Aug. 13 and 14, 2016
WHERE: The Woodlands Waterway Marriott Hotel & Convention Center, 1601 Lake Robbins Drive.
COST: $9 for adults, $8 for seniors, and children 12 years and younger can attend for free.
Free covered parking is available in the parking garage behind the convention center next to the Cynthia Woods Mitchell Pavilion at Six Pines and Lake Robbins. After parking take the pedestrian skywalk connected to the 4th floor of the garage that will lead you to the hotel/convention center. Follow the show signs that will direct you to take the escalator down to the lobby and the show entrance.
For more information about the show, call 832-274-3944 or visit WoodlandsShows.com, where a downloadable discount coupon for $1 off admission is available.