/

/

Addressing the issue of suicide is the focus of a new Montgomery County film series called 'Breaking Stongholds'
Addressing the issue of suicide is the focus of a new Montgomery County film series called 'Breaking Stongholds'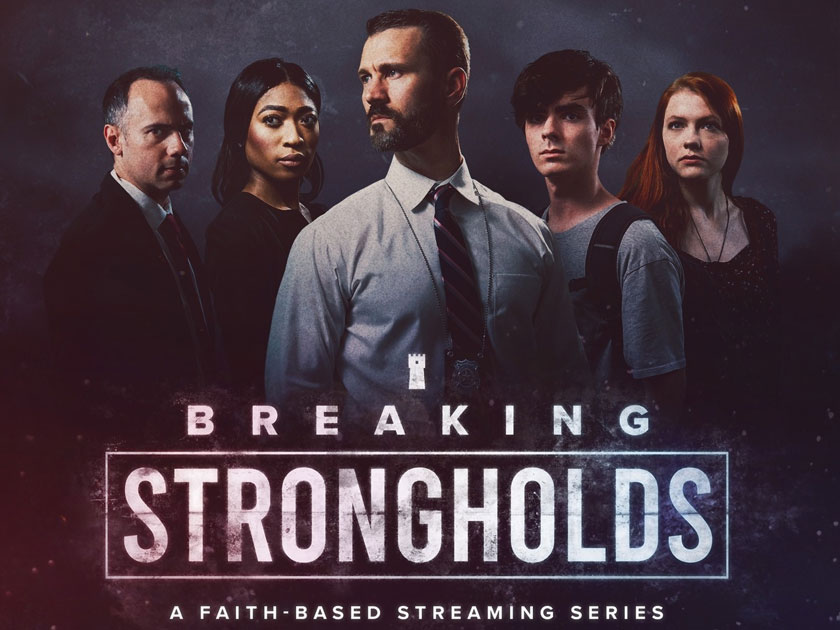 Conroe, TX -- Suicide is a growing issue in our community. According to the Centers for Disease Control and Prevention, suicide rates have increased 33 percent between 1999 and 2019. It is an issue that impacts countless families and affects every walk of life. A local professional video production company, Reflective Media Productions, is tackling that issue head-on through a new film series called Breaking Strongholds.
According to Reflective Media Productions, "The show centers around a high school teacher gone missing and the family of Detective Ethan James, whose son, unbeknownst to him, is considering suicide to escape the pain from the loss of his mother. All the while, a small Texas town is distracted and deceived by the arrival of world-renowned, best-selling author, and thought leader, Redmond Quinn. Breaking Strongholds addresses suicide, depression, abandonment, spiritual darkness, and more."
Breaking Strongholds is filmed entirely on location in the city of Montgomery, Texas. The show consists of a group of fellow Christians with the heart to reach not only their community, but other cities across the country with the exciting story of hope. Filming and marketing this project is the typical David and Goliath story regarding film production companies. They are competing with some of the largest production groups to get the word out about their new series. Breaking Strongholds is a collaborative effort that depends on local communities helping to support their work. Links to view Breaking Strongholds as well as ways to help is listed below.
We asked Terry Weaver, Director of Marketing & Development for Reflective Media Productions, and one of the stars of Breaking Strongholds, some questions about this new project.
Question:
Who came up with the idea for this series and what is the reason behind producing this show?
Answer:
The show producer, writer and cinematographer sat down after completing their last project, a full-length film called We Are Stronger, and after some prayer and learning about how serious suicide has impacted our community, they decided to write and produce Breaking Strongholds.
Question:
Why did you pick Montgomery, Texas as the location for the show? Were there other towns in consideration and if so, which ones? Will Montgomery, Texas continue to be the filming location or are you also looking at adding some new locations in future episodes?
Answer:
We wanted a small-town feel for the show, and the City of Montgomery has that look and feel. The community business leaders, the city, and the citizens embraced the project and even contributed to help us produce the first four episodes.
Question:
How has the reception of the show been so far?
Answer:
The only complaint we have had is, "We want to know what happens next." There are some serious cliff-hangers through the first season.
Question:
Where can people currently watch the show? Do you have any plans for other viewing options, like ROKU or other streaming download providers? Can you purchase the episodes in DVD format?
Answer:
We strategically released it to YouTube first because we want to get the show to as many people as possible with as few barriers as possible, plus YouTube is where the people hang out. We have additional distribution deals with Pure Flix and Crackle, with more on the way.
Question:
Terry, how did you get involved in this project? Could you tell me about the background of some of the actors. Are the actors paid or is this on a volunteer basis?
Answer:
Back in 2018, I was praying for God to use me to shine His light. I had met the producer briefly at a function, but the interaction was maybe two minutes. Seven months later, I received a call from her out of the blue. She asked me if I would like to audition for the lead role. I don't believe in coincidence. I believe it was an answered prayer. Turns out the show's anchor scripture is John 1:5 "Light shines in the darkness, and the darkness has not overcome it.
All of our actors, thus far, have volunteered their time, and many of them contribute to the show financially to help us fund it. Many of our cast members are professionally trained actors through a local acting school, Next Level Acting School, in fact, two of our actors are instructors from the school. Our cast is involved because they have a heart for the issues we are tackling in Breaking Strongholds.
Question:
Does your media group work with or partner with other organizations that deal directly with the issue of suicide?
Answer:
Yes. Cassidy Joined for Hope, CAREForce, LivingWorks, and many more.
Question:
How many episodes are currently available and how many is your group wanting to produce each year?
Answer:
Season one consists of four episodes. One episode is released per week. Episode one was released on April 30th. The full release schedule and ways to watch can be viewed here https://www.breakingstrongholds.com/watch
Question:
How does your group fund this project? Is there a need for more funding to help produce episodes? If so, how can people help?
Answer:
This show has been completely funded through donations by our community. These are concerned individuals and business owners who want to see something done about the issues we address in the show. We have created a workbook and have contracted with LivingWorks an organization that has been around for thirty-eight years teaching people suicide intervention.
We are currently working to fund season two of the show, which is already written and pre-production has begun. If you would like to join this effort please visit https://www.reflectivemedia.org/ and click the donate tab. Donations are tax exempt as our production company is a subsidiary of a 501 (c) (3) non-profit.
Watch Episode One below:
Click here to view all episodes