/

/

Grand Central Park Hosts Toy Drive Dec. 1-10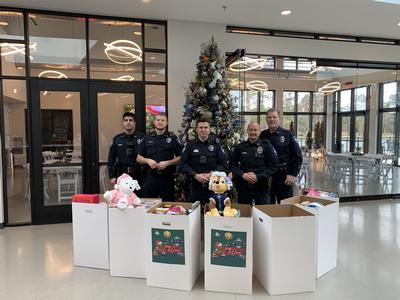 CONROE, TX -- Grand Central Park is asking people to share the joy and donate a toy during its annual toy drive Dec. 1-10.
Unwrapped gifts can be dropped off daily at The Lake House, 1039 Lake House Drive, between 9 a.m. to 5 p.m. Toys also will be accepted at The Finding Place, 750 Grand Central Parkway, from 10 a.m. to 5 p.m. Monday through Saturday and noon to 5 p.m. Sunday. Once collected, toys will be distributed to children by the Conroe Police Department.
"So many Conroe-area children and teens wake up to nothing under their Christmas tree," said Doris Hopper, Director of Fun for Grand Central Park. "Our toy drive is an opportunity to get gifts where they are needed the most. We are accepting gifts for all ages, but preteens and teens often get left out. I am asking that people also keep them in mind when planning their donations."
Last year, Grand Central Park collected seven boxes full of toys. Hopper said that the toys are distributed to local organizations.
"In 2021, Conroe PD gave our toys to CASA Montgomery County, a non-profit that we work with," she said. "I'm not sure how they will be distributed this year, but I know they will all go to good homes and be much appreciated."
Grand Central Park is located on I-45 North and S. Loop 336. Homes in the community are priced from the low $300,000s to the $600,000s.
For more information about Grand Central Park, visit www.grandcentralparktx.com.