/

/

Sacred Heart Catholic School joins Conroe Chamber of Commerce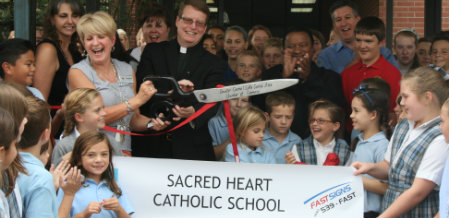 CONROE, Texas -- Sacred Heart Catholic School recently celebrated joining the Greater Conroe/Lake Conroe Area Chamber of Commerce with a ribbon cutting ceremony.
Chamber membership celebrated with ribbon-cutting ceremony.
"We truly enjoyed sharing our school with the Conroe Chamber and the wonderful representatives and diplomats that came to support us at the ribbon cutting," said Deb Brown, Principal. "We were humbled by the phenomenal welcome and look forward to getting more actively involved throughout the local community and surrounding areas."
Founded in 1959, Sacred Heart Catholic School is an Accredited School in the Archdiocese of Galveston-Houston and is dedicated to educating the heart, mind and spirit. Serving Montgomery County, Sacred Heart promotes academic excellence and fosters life-long learning while providing a loving and supportive climate for Pre-K through 8th grade.
For more information about Sacred Heart Catholic School, please call visit the school's website.