/

/

Sacred Heart Catholic Church and school rewarded for energy efficiency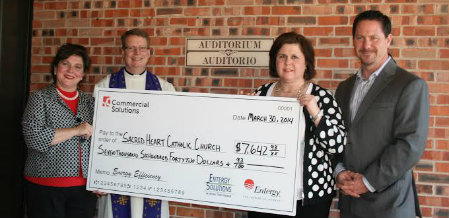 CONROE, Texas -- Sacred Heart Catholic Church recently received a $7,642 cash incentive from the Entergy Texas Commercial Solutions Program for a lighting retrofit in the parish and school buildings.
The Commercial Solutions Program helps organizations save energy and money by providing no-cost facility improvement recommendations and financial incentives based on energy savings.
The church and school's Commercial Solutions Program success comes at a time when it is making extensive improvements to its facilities and adding 9,600 square footage of new space to its campus. These improvements include the addition of a 2,000 square foot cafeteria kitchen and other renovations to its auditorium, new fencing around the school, improved signage, additional parking and two new buildings. The new buildings include a 5,600 square foot St. Vincent DePaul Society and a 2,000 square foot maintenance office and storage building.
Parish Administrator Eileen Borski said, "The program staff's technical expertise guided us throughout the process, ensuring that we achieved maximum energy savings and fully functioning equipment allowing us to be good stewards of the finances at Sacred Heart parish and school. Sacred Heart looks forward to future opportunities to turn to the Commercial Solutions Program to increase our energy-efficiency in our existing buildings and as Sacred Heart moves forward with our Master Plan."
The high efficiency lighting will save 133,209 kilowatt-hours of electricity per year, equal to eliminating the carbon dioxide emissions from 10,536 gallons of gasoline, according to U.S. Environmental Protection Agency calculations. "We're proud to serve as an energy-efficient role model in the community," Borski said.
"We identified a real need for an energy efficiency program that specifically targets our commercial customers, especially as budgets are spread thin," said Entergy Texas Customer Service Representative Tracey Brodeur. "This program is an organized effort to bring needed energy efficiency to Texas."
Since 1898, Sacred Heart Catholic Church has been serving Montgomery County while watching the area grow and change from generation to generation. The parish continues to grow and now serves more than 6,500 families with approximately 70 active ministries, over 1,000 students in religious education and approximately 300 students in the parish school. There are two priests and two religious sisters that reside on campus, and currently there are 18 staff members working at the parish and 46 staff members at Sacred Heart School.
For more information about Sacred Heart Catholic Church, please call 936.756.8186 or visit the link provided.