/

/

Sacred Heart Catholic School teachers served community at McDonald's McTeacher's Night
Sacred Heart Catholic School teachers served community at McDonald's McTeacher's Night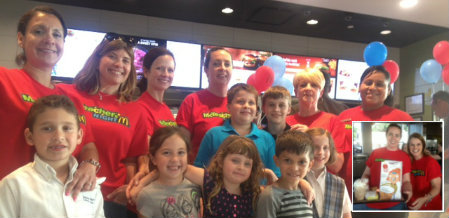 CONROE, Texas -- Sacred Heart Catholic School recently participated in McTeacher's Night at the McDonalds located at 11000 E Davis Street in Conroe raising more than $1,300 for the school while Sacred Heart teachers served the local community dinner filled with food and fun for the whole family.
"It was such a blessing to see our teachers and staff come together to help make McTeacher's night a wonderful success," said Principal Deb Brown. "I can't express my gratitude enough to the parents and teachers who helped us make the night possible and to our families and local community who came out for dinner to enjoy an evening with friends to support Sacred Heart Catholic School."
McDonald's successfully launched McTeacher's Night® to host single-night fundraisers for local schools that demonstrate the restaurants commitment to youth and education. Parents and children are encouraged to come to their local McDonald's to see their very own educators serve up hamburgers, fries and shakes! The schools who choose to participate have their faculty and staff act as the "servers" for the evening and McDonald's donates back a portion of the sales from a designated time period to the school for its programs or specific fundraising needs.
Brown added, "We were very excited for the opportunity to work with McDonald's and coordinate such a unique fundraiser for our school programs. As Sacred Heart moves toward becoming a STEM school, we are extremely appreciative of every opportunity to help improve our curriculums and every contribution to our success is a blessing for our students."
Founded in 1958, Sacred Heart Catholic School is an Accredited School in the Archdiocese of Galveston-Houston and is dedicated to educating the heart, mind and spirit. Serving Montgomery County, Sacred Heart is also accredited by the United States Conference of Catholic Bishops and the Southern Association of Colleges and School Council promoting academic excellence and fostering life-long learning while providing a loving and supportive environment for Pre-K through eighth grade.
For more information about Sacred Heart Catholic School or to schedule a tour of the school, please call 936-756-3848 or visit the school's website at the link provided.
Photo 1: Sacred Heart Catholic School teachers and students celebrate McTeacher Night with McDonalds Manager Maria Dominguez (far right) who organizes the program with local schools to help raise funds while teachers serve up dinner and enjoy an evening of family and fun with the community.
Photo 2 insert: (from left) Sacred Heart Catholic School's Mother's Day Out Teacher Gillian Davis and Third Grade Teacher Michelle Vacek help serve up an evening of food, family and fun for the community at the local McDonalds McTeacher's night where the school raised over $1,300 in 2 hours for new curriculum and programs.