/

/

Sacred Heart Catholic School honors veterans at 2nd annual celebration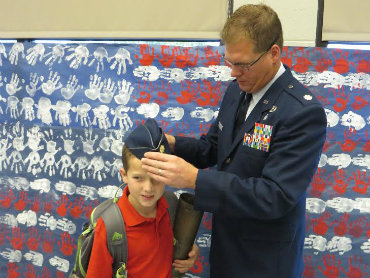 CONROE, Texas -- Sacred Heart Catholic School recently welcomed community veterans to the school's second annual Veteran's Day celebration featuring an honor guard presentation by Boy Scout troop and Cub Scout pack 1517 and a TAPS trumpet dedication from students Thomas Farrell, Troy Horn and Kaitlyn Montgomery.
"It is an overwhelming sense of pride to watch our students and school family honor the men and women who make our freedom possible," said Principal Deb Brown. "The compassion for all who have served is strong at Sacred Heart and we are delighted to share our appreciation and we were honored to have the veterans of our community join us at our second annual event."
After pack 1517 escorted and posted the national colors, United States Army Staff Sergeant Myers led the school in the Pledge of Allegiance and the Pledge to the Texas flag. Principal Brown then led the assembly in prayer and honored the local veterans with a special tribute and patriotic designation from President Barack Obama's Veteran's Day proclamation.
Each grade level participated in the celebration. The PreK – 3rd grade students made posters and decorations that brought the Gymnasium and Auditorium to life honoring the veterans with vibrant works of art for the dedication event. The fourth through eighth grade students were assigned a Veteran's Day essay contest. The three winners, fourth graders Victoria Freund and Paulina Lenz, and eighth grader Kaitlyn Montgomery all stood and read their essays to the assembled ceremony attributing many words of honor and patriotism. After all veterans and active military were asked to come forward and introduce themselves, the first grade students sang and performed "I am in the Lord's Army" and the eighth grade girls sang "God Bless America" and "America the Beautiful." Following the ceremony, everyone was welcomed to a brunch hosted by the Sacred Heart Parent Teacher Organization.
Brown added, "It was such an honor to host our Veteran's and active military men and women and see them interact with the students and faculty. We are thrilled to celebrate this wonderful tradition that creates such an overpowering emotion that fills our hearts with joy and appreciation for all of our loved ones, friends and colleagues that have dedicated a part of their lives for our country."
Founded in 1958, Sacred Heart Catholic School is an Accredited School in the Archdiocese of Galveston-Houston and is dedicated to educating the heart, mind and spirit. Serving Montgomery County, Sacred Heart is also accredited by the Southern Association of Colleges and School Council promoting academic excellence and fostering life-long learning while providing a loving and supportive climate for Pre-K through 8th grade.
For more information about Sacred Heart Catholic School or to schedule a tour of the school, please call 936-756-3848 or visit the school's website at the website provided.