/

/

Sacred Heart Catholic School celebrates the Nativity and Christmas around the world
Sacred Heart Catholic School celebrates the Nativity and Christmas around the world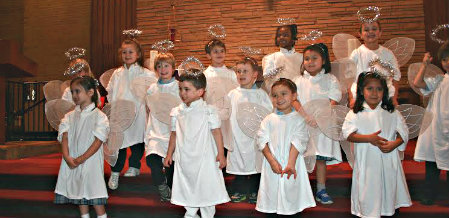 Conroe, Texas -- Celebrating the season, Sacred Heart Catholic School recently performed two Christmas programs entitled "The Christmas Gift" and "Christmas around the World."
"The Christmas Gift" was a collective effort by all of the teachers and performed at Sacred Heart Catholic Church by the schools Pre-K through third grade students depicting the Nativity story. Each grade played a part dressed as various visitors for the birth of baby Jesus. Dressed as angels, Pre-K sang "Go Tell it on a Mountain" and Kindergarten dressed up as animals to visit Mary and Joseph sang their version of "The Friendly Beasts." First grade represented the Nativity scene with Mary, Joseph and the baby Jesus. Second grade drummed their way on stage as the townspeople singing "The Little Drummer Boy" and the kings and queens of third grade sang "We Three Kings" to welcome the baby Jesus in Bethlehem. All of the classes came together in the end to sing "Silent Night."
"It was such a joyful experience for all of the students, teachers and parents," said music teacher, Claudia Lenz. "We truly enjoyed working with all the children to make a magical program for everyone to experience."
Wednesday evening, Mr. Jonathon Garza and the Sacred Heart guitar students welcomed everyone with music in the lobby at Conroe High School to the fourth through eighth grade Christmas program. Under the direction of Mr. Darryl Bayer, the Sacred Heart School band began the program in the auditorium before the students took the stage. This year's production was "Christmas around the World," and the script was written by seventh-grader Jake Burns.
"Jake has a true talent and we are so thankful for his enthusiasm for writing," language arts teacher Dianna Carroll said. "Every piece of the script was a wonderful addition to a beautiful story that shared Christmas traditions and cultures from around the world and taught us all new meanings for celebrating the season."
In "Christmas around the World," a pilot was charted to fly tourists around the world for the Christmas season. Each grade level represented a country the tourists would visit, learning facts and new traditions along the way about America, England, Mexico, Australia and Jamaica and finally reaching the ultimate destination for Christmas, Bethlehem city.
Principal Deb Brown added, "It is such a wonderful feeling watching all of our students and teachers come together and enjoy performing with each other after so much hard work and dedication. Both of the Christmas programs reminded us all about the kindness and joy we look for in life, especially during the holiday season."
Founded in 1959, Sacred Heart Catholic School is an Accredited School in the Archdiocese of Galveston-Houston and is dedicated to educating the heart, mind and spirit. Serving Montgomery County, Sacred Heart is also accredited by the Southern Association of Colleges and School Council promoting academic excellence and fostering life-long learning while providing a loving and supportive climate for Pre-K through eighth grade.
For more information about Sacred Heart Catholic School or to schedule a tour of the school, please call 936-756-3848 or visit the school's website at Sacred Heart Catholic School.