/

/

UPDATE: Inaugural Veterans Resource Fair a big success (video)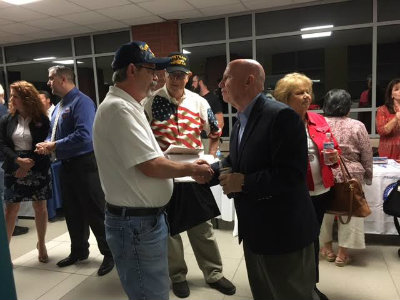 UPDATE:
Congressman Brady plans to repeat next year.
U.S. Congressman Kevin Brady was on hand to thank both the veterans and the vendors at the inaugural Veterans Resource Fair at Lone Star College - Montgomery. (See video.)
The fair featured over two dozen organizations that provide services to veterans, and several dozen veterans were in attendance. The first of its kind in Montgomery County, Congressman Brady was pleased with the turnout and participating of the event that was coordinated by his office.
"This is great. We're helping veterans get much-needed services that they're entitled to," said Congressman Brady. "I'd like to do this again next year."
ORIGINAL STORY:
MONTGOMERY COUNTY, Texas - U.S. Congressman Kevin Brady has announced a Veterans Resource Fair will be held on Veterans Day.
U.S. Congressman Kevin Brady invites all area veterans and their families to attend a Veterans Resource Fair on Wednesday, November 11 from 6 to 9 p.m. in the Health Science Building Atrium at Lone Star College-Montgomery.
When: Wednesday, November 11th, 6:00 - 9:00 PM
Where: Lone Star Community College- Montgomery Health Science Building Atrium (Building B)on the Lone Star College Montgomery campus located at 3200 College Park Drive, Conroe, Texas 77384
"As a brother of an active serviceman and a Representative to thousands of veterans, I believe we must ensure those who sacrifice their lives and well-being for our great nation are not forgotten," said Brady. "Our vets have given so much for our freedoms, we want to actively seek new ways for our office to help them."
The fair is an opportunity for veterans and their families to learn more about available programs and services. Representatives will be on hand with information on county, state and federal veterans' programs as well as veterans' health and wellness programs. The Veterans Administration will also have officials on site to speak to veterans about available VA benefits, how to file a new VA claim or to check the status of an existing claim.
If you or someone you know has served our country, tell them about this event on Wednesday, November 11th.
List of participating organizations:
Alzheimer's Association – Houston
Conroe Reserve Unit
Give an Hour
Goodwill
Juvenile Diabetes Research Foundation (JDRF)
Lone Star College - College Credit for Heroes
Lone Star College - Veterans Affairs
Montgomery County United Way
PTSD Foundation and Camp Hope
Texas Veterans Commission
The Refuge Trauma Center
VA Regional Office in Houston
Veterans Evaluation Services
Veterans Justice Outreach (VA VJO)
Walgreens - College Park Location
YMCA - Woodlands/Conroe
Houston Bar Foundation
St. Luke's CHI
National Military Family Association
Disabled American Veterans