Social Security takes center stage at AARP town hall conversation with Congressman Brady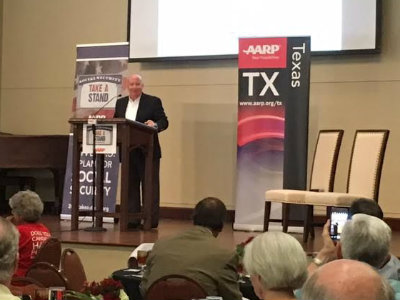 MONTGOMERY COUNTY, Texas - AARP Texas held a town hall conversation featuring U.S. Rep. Kevin Brady to put an election-season spotlight on the topic of Social Security.
Congress Brady (R-Conroe) serves as the U.S. House Ways & Means Committee chairman and is sponsor of a measure that treats teachers and other public-sector retirees, like police officers and firefighters, more fairly under the Social Security system.
Currently, many educators and other public servants are drawing sharply reduced Social Security benefit simply for having held multiple jobs that didn't require paying into the Social Security System. Their situation is the result of what's known as the Windfall Elimination Provision or WEP, that was made a part of Social Security three decades ago.
This year, Congressman Brady is leading a bipartisan effort to restore fairness in calculation Social Security benefits for workers penalized by the WEP formula. House Resolution 711, which AARP supports, would benefit approximately 95 percent of all Texas public school teachers, as well as many retirees in teaching and other fields.
The House Ways & Means Committee led by Congressman Brady, has oversight on taxes, trade, Social Security, and many health programs that are of utmost importance to AARP, it's 38 million members across the nation, and for all Americans.
Taking place at The Woodlands United Methodist Church, the conversation featured a wide-ranging discussion Social Security. The event comes amid AARP's Take A Stand campaign that aims to build public awareness about the importance of Social Security remaining strong for future generations.
An AARP analysis finds that Texas workers paying into Social Security today stand to lose 25 percent of their benefits if national leaders don't act, which is why AARP is pressing presidential and congressional candidates to tell voters how they intend to keep Social Security strong.
"Finding a solution to preserving Social Security grows more difficult as our leaders wait to come up with a plan," said AARP Texas Director Bob Jackson. "If our leaders don't act, future retirees could lose up to $10,000 a year by 2034."
In Texas, 3.8 million people receive Social Security benefits. More than 44 percent of them rely on those benefits for more than half of their income, and nearly a quarter of them (23 percent) say their Social Security check accounts for 90 percent of their income.
To learn more about AARP's Take A Stand campaign and what you can do to hep preserve Social Security, go to www.2016takeastand.org
AARP is a nonpartisan, nonprofit advocacy with a membership of more than 38 million, including 2.3 million members in Texas.
See related links:
Public Servants to benefit from legislation HR 711 proposed by House Ways and Means Committee
The Simplified Income Tax Plan proposed by the House Ways and Means Committee
#AAPR #takeastand #ABetterWay