/

/

UPDATE: Ways and Means passes bills to improve health care and strengthen families
UPDATE: Ways and Means passes bills to improve health care and strengthen families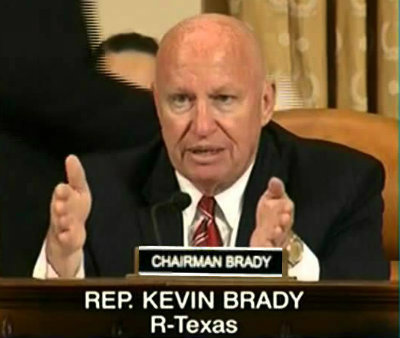 UPDATE: June 21, 2016
Relief from Obamacare targeted
WASHINGTON, D.C. – Today, House Ways and Means Committee Chairman Kevin Brady (R-TX) released the following statements after the House of Representatives passed four bipartisan bills to improve access to health care and promote proven local solutions to strengthen families.
After the House passed the Small Business Health Care Relief Act (H.R. 5447), sponsored by Tax Policy Subcommittee Chairman Charles Boustany (R-LA), and the Native American Health Savings Improvement Act (H.R. 5452), sponsored by Rep. John Moolenaar (R-MI), — both of which will strengthen consumer-drive health care options — Chairman Brady said:
"Our Committee is dedicated to identifying and advancing commonsense, Member-driven solutions that improve health care through regular order. Chairman Boustany and Congressman Moolenaar's bills are excellent examples of what Congress is doing to empower Americans with control over their health care choices, unleashing the powers of choice and competition to lower costs and improve quality."
The House also passed two bipartisan bills to promote proven welfare solutions – the Family First Prevention Services Act of 2016 (H.R. 5456), sponsored in the House by Human Resources Subcommittee Chairman Vern Buchanan (R-FL), and the Social Impact Partnerships to Pay for Results Act (H.R. 5170), sponsored by Rep. Todd Young (R-IN). Chairman Brady remarked:
"These bills continue our bipartisan – and bicameral – effort to focus our limited resources on evidence-based solutions that deliver real results and improve lives. Together, Chairman Buchanan and Congressman Young are helping to redefine success – paying for what works to improve outcomes for children and their parents."
Background:
The Ways and Means Committee voted to pass H.R. 5447, H.R. 5452, and H.R. 5456 at a full Committee markup last week. The Committee voted to pass H.R. 5170 at an earlier markup.
ORIGINAL ARTICLE:
WASHINGTON, D.C. - Today, the House Ways and Means Committee passed seven commonsense proposals that will help increase health care flexibility and choices for all Americans.
As Ways and Means Committee Chairman Kevin Brady (R-TX) said:
"These bills are another demonstration of our commitment to identifying and advancing member-driven solutions that provide Americans more access, better choices, and greater flexibility in health care.
"In fact, each of them is a product of our Health Subcommittee's recent Member Day hearing on tax-related proposals to improve health care."
The first four health bills the Committee passed today promote innovation and empower individuals and families to make their own decisions about health care spending. Each bill expands access to consumer-driven health care options, such as Health Reimbursement Arrangements or Health Savings Accounts. The bills include:
As Ways and Means Tax Policy Subcommittee Chairman, Rep. Boustany, said during the markup:
"It is a rare occasion these days to find members from opposite sides of the aisle coming together in this constructive fashion to solve a problem that has the potential to directly impact small employers and Americans in a positive way.
"The Small Business Healthcare Relief Act would not only help small employers provide a competitive health benefit to their employees, but also ensure we expand the universe of individuals who have the opportunity to afford health coverage, and even help with some of their out-of-pocket healthcare costs."
The final three pieces of legislation the Committee passed today repeal specific Obamacare provisions that hold down job growth and increase taxes. As Chairman Brady explained, these bills "provide targeted relief as we push forward with our plan to fully repeal that law and replace it with patient-focused alternatives."
The bills include:
The Tribal Employment and Jobs Protection Act (H.R. 3080), sponsored by Rep. Kristi Noem (R-SD), which eliminates Obamacare's employer mandate for tribally owned businesses;
The Student Worker Exemption Act of 2015 (H.R. 210), sponsored by Rep. Mark Meadows (R-NC), which provides universities relief from the employer mandate for hours worked by student workers; and
The Halt Tax Increases on the Middle Class and Seniors Act (H.R. 3590), sponsored by Martha McSally (R-AZ), which repeals a provision of Obamacare that makes it harder to deduct high cost medical expenses.
Emphasizing the Committee's commitment to advancing reforms through regular order, Chairman Brady said:
"All seven of the bills before us today are innovative, member-driven solutions. I'm grateful to everyone on and off our Committee who worked hard to put these bills together. By advancing these bills today, we can demonstrate that we are serious about addressing major challenges in health care."